Heidi Angell The Everwise asked me to participate in the 12 Days of Indies event and I'm honored and happy to do so.
Of course, I'm not doing this myself. Several authors are taking part.
And it would be kittens nice if you purchased some of their DEEPLY DISCOUNTED!!!! books.
(and thanks)
And most of the authors listed below will be doing Facebook Takeovers! I did my first today and will do other takeovers on:
Thursday, 16 Dec 2021, 11amET
Sunday, 19 Dec 2021, 1pmET
Friday, 24 Dec 2021, 9pmET
Please join us (and especially me).

Children's Books
$2.99
Carnie Loves Books by Toi Thomas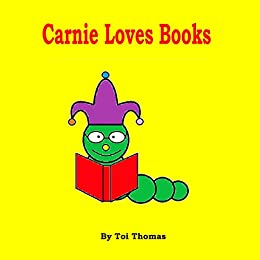 Carnie is a bookworm with one love in his life- books. When Carnie loses his reading glasses, he goes on a search to find them. Read along as Carnie searches for his glasses and professes his love for reading books. 100% of proceeds supports Lit Carnivale, a book fair in the making.
Share with a little one today!
$1.99
Winter's Child by J. S. Burke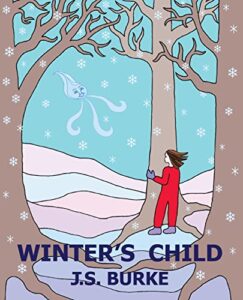 How can one child end the long, fierce Winter?
Original Fairytale in rhyming verse with colorful illustrations.
This story has the magic of friendship, for young readers 9 to 99.
* * * * * * * * * * *
Winter has lasted for many long years;
No babies were born during this time of fears.
Mariah surprises the world with her birth.
Can she bring back Spring, with its laughter and mirth?
The kids have grown up and they work hard each day.
She's too young to help, so she's left out to play.
At last she cries out, "I feel so alone!"
The Wind's heart is melted like ice on a stone.
He shares vivid stories as their friendship grows.
Can the magic of friends end the Winter they know?
Share with a little one today!
Royal Prince Vince by Heidi Angell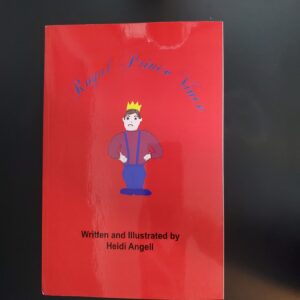 Welcome to the tale of Royal Prince Vince, a spoiled little prince. His parents don't know how to make him happy and get him to stop throwing fits. The help comes from the most unlikely source!
A great story for children 3+ to learn the joy and pride of accomplishment.
Paperback is on sale Normally $14.99, now only $8.99
Fantasy
$2.99 E-books
Water & Fire (The Dragon Pillars Book 1) by Sanzaki Kojika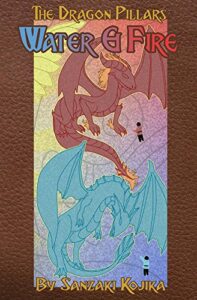 There is a legend that everyone knows- the legend of the Dragon Pillars. Every several hundred years, darkness befalls the land. The Dragons awaken and choose their Pillars, humans strong enough to withstand their powers, and together they drive back the darkness.
In the towering cathedral of Vivdaugas, students flock to study the archives built upon the legend and train to reach the glory of its heroes. Garred Conway is preparing for his test to become a true Defender when a storm threatens to destroy the citadel, and the land around it. Trapped in the catacombs, desperate to save those he cares for, he finds help from the most surprising place- the Water Dragon Aysu. Now, as Aysu's new pillar, he finds himself with more responsibility thrust on him than he could have ever imagined.
A Whisper In The Shadows: (Rangers of Laerean, #1) by Tom Fallwell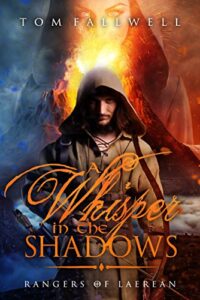 When the Ranger Baric meets the exotic and alluring woman from Vaar'da, called Whisper, he agrees to assist her on what seems a simple rescue mission that soon turns into something far more complicated than he expected. Their journey soon becomes a deadly and suicidal quest into the Great Divide, an area of Hir where men fear to travel, into the realm of the demonic Manenase, who live under a great volcano in the center of the Boiling Sea.
The fate of Hir depends on the courage and skills of the heroic Rangers and their small Vaar'da companion, as they struggle to save the world of Hir from impending disaster.
Paperback is also on sale: normally $19.99 on sale for $16.99
Where Shadows Fall by Tom Fallwell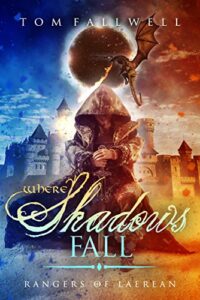 When the Rangers discover that a deadly and horrific dragon of unspeakable power has been loosed upon their world, they must find a way to destroy the monster before the creature of shadows burns them all into oblivion. Complicating their efforts, the discovery of a secret and hidden dragon cult that worships the monster, and a conspiracy of dark forces from the realm of shadows, threatens to destroy the peace their world has known for centuries and bring war to the people of Hir.
Struggling to survive the deepest of betrayals, the Rangers face a dark and foreboding time, as the world of Hir changes dramatically around them.
Paperback is also on sale: normally $19.99 on sale for $16.99
The Shadow of Narwyrm by Tom Fallwell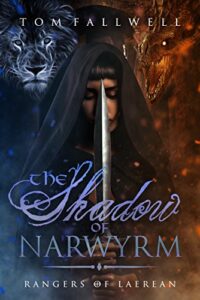 The world of Hir now stands on the brink of war with the demonic Manenase and their massive horde of Morok minions. Baric and his friends journey to the haunted Ghost Swamp to find the lost Amulet of Thiranor, which holds the key to stopping Doomrage, once and for all.
In the epic conclusion to the Shadows Trilogy of the Rangers of Laerean series, much lore from the ancient past is learned, while the shadow of the great Dragon Spirit, Narwyrm, looms over them all.
Paperback is also on sale: normally $19.99 on sale for $16.99
Dragonblood Throne: Legacy by Tom Fallwell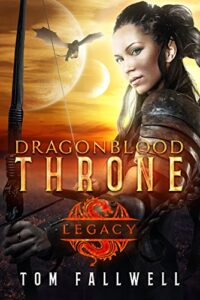 Orphaned as a young child and growing up alone in the forest, Delina lives a life of isolation; her only companion a saber-toothed panther. Her strange eyes frighten those she occasionaly encounters, so she keeps to herself, until a young, wounded warrior ends up at her doorstep. As she nurses him back to health, she discovers she is more than just a young woman with unusual eyes, she is a dragonblood, destined to become the ruler of Almar.
Now hunted by the dark sorcerer who murdered her father, usurped his throne, and killed all her kin, she must find out how she can release the essence of the dragon inside her to defeat him. Everything depends upon her willingness to embrace her legacy and reclaim the Dragon Throne.
Paperback is also on sale: normally $19.99 on sale for $16.99
$1.99 E-books
Divinity's Twilight: Rebirth by Christopher Russell
WINNER: 2020 Chanticleer International Book Awards for Fantasy (OZMA)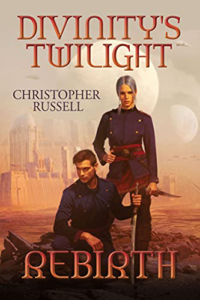 Enter the world of Divinity's Twilight, a gripping fantasy epic from the mind of Christopher Russell. Ancient forces will rise, realms will be shattered, and a band of unsuspecting heroes will shoulder a cosmic struggle two millennia in the making.
Teaser
A world consumed by war . . .
An ancient evil resurrected . . .
A millennia old bargain comes due . . .
When two blades clash, the third will fall, and the fate of all will be jeopardized. To save Lozaria, the failures of the past must be atoned for by a new generation of heroes. The time has come for mortals to cast off sight and, in doing so, truly come to see . . .
Victory is never absolute.
Seven centuries ago, the forces of order won the Illyriite War on the plains of Har'muth. Darmatus and Rabban Aurelian slew their elder brother, Sarcon, the despotic architect of the conflict, then sacrificed themselves to banish the cataclysmic vortex opened with his dying breath. The first advent of the Oblivion Well was thwarted. Even without their vanished gods, the seven races of Lozaria proved themselves capable of safeguarding their world.
Or so the story goes.
The year is now 697 A.B.H (After the Battle of Har'muth). Though war itself remains much the same, the weapons with which it is waged have evolved. Airships bearing powerful cannons ply the skies, reducing the influence of mages and their spells. Long range communication has brought far flung regions of Lozaria closer than ever before. At the center of this technological revolution are the three Terran states of Darmatia, Rabban, and Sarconia, who have fought a near ceaseless campaign of 700 years in an attempt to best each other. The roots of their enmity lie buried beneath the wasteland of Har'muth, a place all three nations consider best forgotten.
However, an ancient power sealed within Har'muth has not forgotten them, and the descendants of those who fought on that field must now take a stand to rectify the mistakes of the past.
Grab the e-book today from your favorite online e-retailer
Or grab the discounted paperback (Normally $19.95, sale $12.95) from the author's website
Special Features: Signed, Includes a bookmark and one poster of your choice (Put: Pyrevant, Airship, Lilith, or Valescar in the check-out notes)
99¢
The Legacy by Frank Montellano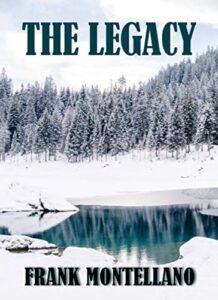 "Hurry Reynard! It's poor Anna. She's fallen into the lake!"
On a frightening winter evening, three witches chase after their eldest sister Anna. Reynard the Hunter dives into the frigid waters in a vain attempt to rescue her, but the hole ices over. Anna and her would-be rescuer are gone.
Family members, including Anna's lost son August, return home for the wake, only to find a power struggle rages among the sisters, both living and … dead? Power in this family of witches and warlocks is handed down, but if neither Beth nor August received Anna's legacy, where did it go? Is the old witch truly dead or did she have some witchcrafty tricks up her sleeves?
Fantasy/Magic Realism
$2.99
Empty Sky Joseph Carrabis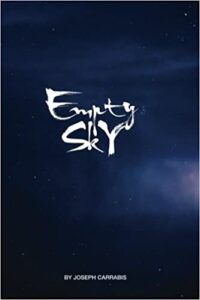 Jamie's mother has vanished and his father is falling in and out of an inexplicable coma. Now he and his dog, Shem, have been tasked with saving the world's dreams. Their quest will take them from Michigan's Upper Peninsula to Dartmouth College where a neurophysiologist has developed a dreaming computer named Ann. Along the way they get help from the Guardians of the Moon, creatures who carry our dreams to and from us, and some heroic people who've lost the ability to dream. But one division of the NSA and especially Earl Pangiosi knows that dreaming is powerful and important, and will use all their power to stop Jamie from succeeding.
What does it mean to dream, to hope? To wake up each morning with the belief that today will be better than yesterday? And if we lose the ability to hope, to dream, to wish, to believe in better tomorrows? What happens when people don't want to dream yet can't wake up? And what if humans aren't the only ones who can dream? Jamie McPherson and his dog, Shem, discover where dreams are kept and who guards them, and why people are losing the ability to dream. Jamie is willing to help but to do so he must make what seems a boy's ultimate sacrifice, the loss of his best friend, and with it the loss of his innocence.
Paperback is normally $14.95, sale $12.99 Dream on today
Fairy Tale Fantasy
$2.99
Princess of Undersea by Leslie Conzatti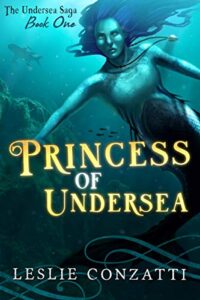 Mermaid princess Ylaine has only ever wanted one thing: her father's recognition and approval. King Davor of Undersea, however, is obsessed with launching a war against the ignorant, pact-breaking humans. Ylaine believes that if she can convince her father that not all humans are evil, he might listen to her, and call off his plans for war. Such an outcome seems so far out of reach, till the day she willingly trades a most precious gift to have the thing that she hopes will help her make peace between the realms: magic that transforms her into a human.
Safe in the palace of Overcliff, Prince Nathan seeks his own comfort, and dreads the day when the people of his failing kingdom will depend on him for their well-being. His father, King Theodore, remains distant and forgetful, while the Royal Council runs things–and as far as the Prince is concerned, he is free to continue doing as he likes. When a mysterious young woman arrives on the island, he begins to realize that all is not as it seems–and threats can come just as easily from across the sea as under it.
Christmas Sparkles by Anita Kirk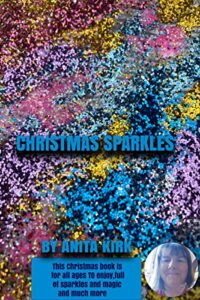 Father Christmas and his elves up in the North Pole, ask for the Christmas wish fairies help that live on a cloud in the sky, because they were too busy to solve the situation themselves, with a panic, realising that there were too many people on the naughty list.
The Christmas wish fairies that live in the fairy-tale cottage in the sky, help a young family to have a magical sparkly Christmas, with them taking the family on many unpredictable adventures, with them travelling as sparkles through the air to different magical lands, with many twists and turns along the way, using their red ruby as a tool around their neck, with them having a glimpse of their future lives.
Do the clouds in the sky have writing in them, to send a message down to earth?
The Glittery sparkles garden centre has got a magical room, with unpredictable, magical things happening inside, with sparkles flying from many different unpredictable places that you would never imagine that they would come from, with magical cards, shoes, decorations and much more.
Rainbow coloured coins were scattered around the world in many wishing wells, that need to be found by the Christmas wish fairies, to help people onto his nice list instead of the naughty list and to get the Christmas spirit back, with the 'Magico meter bracelet' also helping, hoping that there will be enough for Father Christmas's sleigh to fly.
There are magical stones that throw out many future visions, and other magical cards with some people disappearing inside.
You need to read to find out what the sparkly fingerprints passport and the Tinsel and Sparkle card does.
Their wings have many uses, with powers that they never knew were possible, with them having to use clues that they have got to work out how to solve the problems that had been caused by bad magic.
There are magical stickers, and 'Pom Pom's' that are fun and full of magic.
Does Gemma find the correct key to help the people with a clock connected to them?
Will you sing and dance along, while learning a new word or two in Italian.
The paperback is also on sale for a sweet $6.15
Epic Fantasy Romance
$2.99
The Solitary Road by S.I. Hayes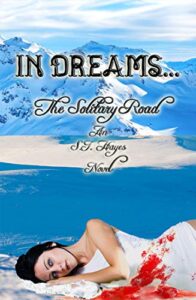 Dumped in a treacherous Arctic land, Amara Dagon must master her spell craft if she is to survive a year in exile, but fear, doubt and the loss of her family threatens to take hold. Can Amara gain control of her magic or will she succumb to it leaving her people in the hands of a dangerous tyrant?
*Trigger Warning: Violence
* *Erotic Elements
Free
Shadow Crusade by Jessaca Willis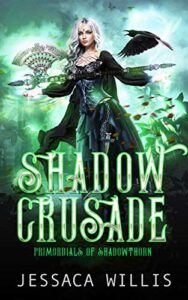 Demons chase her… But this badass huntress is ready to fight back!
When horrifying monsters kill Halira's and Dimitri's families, they join the Shadow Crusade, a legion of warriors tasked with destroying demon-kind. Together, they'll avenge their loved ones, and perhaps find some small amount of comfort in having each other for the journey.
But some horrors can't be escaped…
One in particular—the roguish half-demon responsible for killing Halira's parents—stalks her to the Crusader's camp. She assumes he means to finish the massacre he started, but his gentle eyes tell another story, one Halira can't begin to understand.
On top of learning that demons might not be what they seem, Halira soon discovers a forgotten magic, one that could drive a wedge between her and Dimitri, and threaten the very survival of the realm.
Will Halira be the savior her country needs? Or will the allure of dark forces thrust her into the shadows?
Shadow Crusade is the first in a gothic, high fantasy romance series with a badass demon huntress, Lovecraftian immortal creatures, epic world-building, and an enemies-to-lovers romance love triangle. If you enjoyed books by Leigh Bardugo, Elise Kova, Jennifer L. Armentrout, and Camille Longley, then you'll devour Shadow Crusade!
Start reading Shadow Crusade now!
Fantasy Romance
$2.99
A Bond of Thread by Allegra Pescatore & J.P. Burnison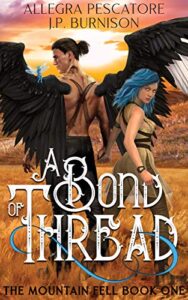 Enter the Nine Lands of the Mountain Fell.
Skye has only ever known pain and solitude since waking up with neither memories or magic. Hunted for being a Ruler in a time when they are scarce, she has survived in the wilds near the Rim, always on the run from the rest of her kind. Only starvation could draw her close to a village, but when a chance encounter and a bit of bad luck launch her into the arms of a man whose soul is bonded to hers, hiding who she is may no longer be possible.
Ilyas is a hunted man. Wanted for killing the last High Queen of Vine, he is plagued by his past of wholesale slaughter. He never wanted another Queen, and certainly not a half-feral, distrustful girl who gave up on the Fae a long time ago. Unfortunately, Soulbonds are not so easily walked away from, no matter how hard they both may want to, especially when trapped together in a cave with a pack of Feral Fae right outside.
With long-held enmities breaking out between the besieged villagers and all their lives on the line, Ilyas and Skye must learn to work together and trust each other if they want to survive.
99¢
Scarlet Tides (An Immortal Seas Novel Book 1) by T.L. Hanigan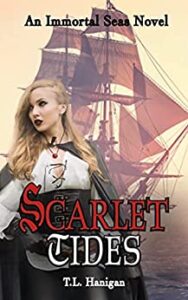 How far would you go for the truth?
Sybil Pierce, a proper young lady dreams of adventure when her best friend, Griffin Morgan, goes missing after failing to accompany her to a party.
Believing he's in trouble, she finds herself trusting a pirate and boarding a ship only to find out the pirate isn't who he says he is.
As for Griffin, his secret of being a vampire is revealed, along with family secrets.
Urban Fantasy
$2.99
The Purple Door District by Erin Casey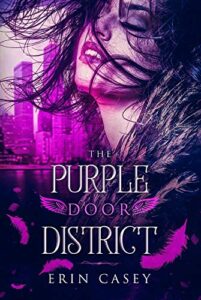 Bianca was supposed to attend art school in Chicago, not run for her life from Hunters. The only chance she has to survive is to find The Purple Door District, a safe haven for a parahuman like herself. When she stumbles upon a magus named Gladus and a fellow avian named Carlos, she thinks she's found safety. But the Hunters are relentless, as is the dark force driving them.
Vampire, werewolf, avian, magus
It's up to the parahumans of the Purple Door District of Chicago to put their differences aside to save Bianca and stop a dark threat from destroying their peaceful community.
Wolf Pit by Erin Casey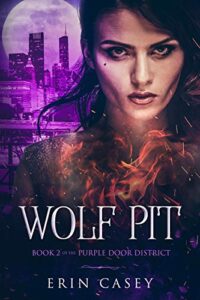 Tess Montgomery isn't your typical member of the Chicago wolf pack. In fact, she's not a wolf at all. She's an adopted fire magus of the pack and thus doesn't always "play by the rules." When her father and her best friend Nick are kidnapped in what the parahumans assume is a Hunter operation, Tess's pack is thrown into turmoil. With Alpha Paytah unable to step outside the bounds of his new position as Violet Marshall of Chicago's Purple Door District, Tess takes the reins to plan a rescue attempt.
Meanwhile, Nick and his fellow wolves find themselves in a world of battle and bloodshed. The Hunters have set up an illegal fighting pit where the strongest survive and the weakest are traded or killed. It's all Nick can do to keep up the spirits of his packmates and help them escape. Or survive long enough until they're rescued.
Unfortunately, Tess's rescue mission fails spectacularly, leading to her capture. She finds herself the unwilling guest of a local Hunter named Arjun. Handsome, charming, and deadly, Arjun tries to convince Tess that not all Hunters are the enemy. He even offers to help her find her packmates. But is he true to his word, or does he have his own wicked plans in mind?
Linked by Alex G Zarate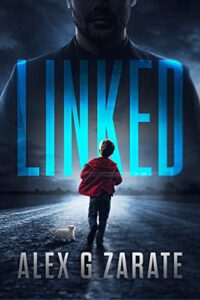 Finding little snowy was the best thing for 8 year-old Tommy who continues coping with the loss of his father. When the kitten shares its unique gifts with him, his happiness grows as he begins to see the secret images radiating from the world around him. But when a cold-blooded killer begins tracking them down, both Tommy and Snowy must face the worst possible danger of their lives as this monster begins destroying all who stand in his way, determined to possess both child and cat.
Ripples Of Mind (Linked Book 2) by Alex G Zarate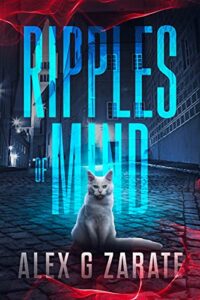 In the aftermath of their encounter with the madman, Hap, Tommy and his cat, Snowy now find their abilities growing. Tommy fights to regain control when a new danger emerges. A boy has been killed, another is missing and danger is closer than anyone knows…
Paperback is on sale for $10.99
Only Human (The Human Cycle Book 1) by JD Estrada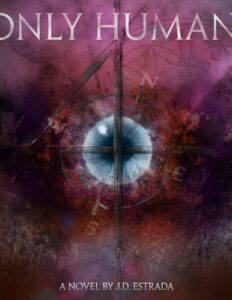 Nathaniel Runnels isn't a fan of life. He isn't a fan of the news, which is a bust because he's a reporter. He's lost faith in journalism, in the truth, in civilization and in himself. So it's quite the surprise when he gets swept up in a quest to save the world. Perception and reality collide as one man faces one question, would you sacrifice your humanity to save mankind?
Only Human is a tale where the truth is revealed about vampires, about therians (make sure you don't call them werewolves), about angels, about demons, the photogeni plant people and humanity as we supposedly know it. This isn't your typical book, these aren't your typical vampires and what has been said is fiction, may actually be truer than the history you've been sold.
Shadow of a Human (The Human Cycle Book 1) by JD Estrada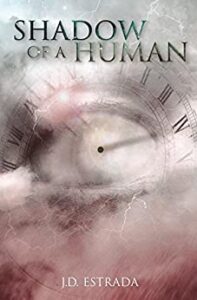 Invincibility is fiction. Two years have passed since Nathaniel Runnels was abducted by a vampire and offered the choice between dying or risking his life to save humanity. In that time, he's killed, seen angels up close and learned that therians are never to be called werewolves. For a time, he thought new abilities meant he could not be defeated. That was also fiction.
In the second installment of the Human Cycle, Nathaniel realizes that everything comes with a price.
Shadow of a Human continues his path of discovery and he'll endure any pain to find the truth that he hungers for.
The Hunters, book 1 in The Hunters Saga by Heidi Angell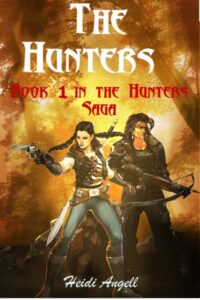 Don't miss out on the first book in The Hunters Saga, The Hunters
For those who believe vampires should be killed, not kissed.
Not your mother's urban fantasy. These monsters are monstrous.
Ever wonder where all those scary legends of vampires, werewolves and monsters came from? Wonder no more.
What would you do if you found your town had been infested with vampires? For Chris and his brother Lucas, the answer was simple enough: you fight back. Gathering a small band of other people in their town who have been affected by the vampires, they begin a resistance. But after a year of fighting, they have only managed to kill a handful, while the vampire leader has turned five times that many.
Then two enigmatic strangers appear, changing their lives even further.
Fury and Havoc. They call themselves hunters, and want no part in this little band of heroes. Ordering them to lay low, the duo vow to rid their town of vampires. When Fury is injured, Chris aides these strangers, entwining his future with theirs.
Now that the vampires know the hunters are here, and that Chris and his friends have helped them, the group is in more danger than ever before. Lucas is torn between protecting his new family from the vampires, and protecting them from these seemingly inhuman beings who say they are there to help.
After all, what beings could be so powerful as to scare a vampire?
Limited 1st edition paperback on sale dropped from $18.99 to $8.99.
The Hunted, book 2 in The Hunters Saga by Heidi Angell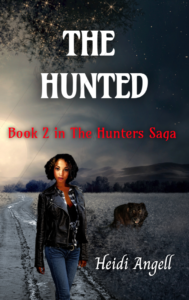 The highly-anticipated sequel to The Hunters Saga.
Follow Fury, Havoc, and Screvin as they track down the Werewolf who turned Screvin and try to help her come to terms with what she is. Things are going better than expected with Avie, then the Counsel comes after them. Now the hunters have become the hunted.
Fury and Havoc have finished ridding a town of the vampires that were taking over. Now the kind-hearted Havoc has agreed to help one of the townspeople, Screvin, track down the werewolf that attacked him during that fight while also trying to help her understand her existence as a newly turned werewolf herself. Things were going well for them until the Counsel comes after them. Now the two ancient fighters and the two brand new ones are no longer the hunters. They are running for their lives, hunted by the Vampire Counsel.
Can they stay ahead long enough to survive?
99¢
The Craigslist Killers by Frank Montellano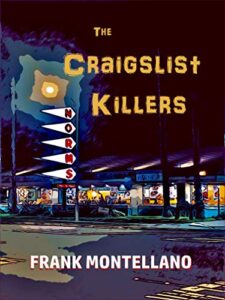 Carol Collins loved her job as a CSI in Los Angeles, she just wished everything else in her life would go right. Her mother was deathly ill, she had no boyfriend, and to top it all off weird things started to happen on the job. Good thing Officer Dave was there to help her out.
Life in the City of Angels ain't easy.
YA Fantasy
$2.99
Fathoms Below by Laura Holt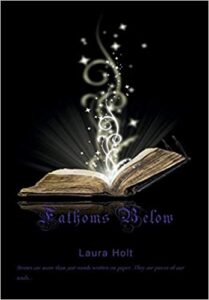 Cather Stevens doesn't love. Not now, not ever. She has spent her entire life watching love ruin her mother, her aunts, her cousins, her grandmother, and she made a vow a long time ago that she would never let that happen to her. But when she meets a winged boy named Hermes who tells her that she is the key to ending the star crossed curse that has plagued the women in her family for centuries, she will have to redefine everything she knows about love, life, and herself. With more than just her own heart on the line, she must find the location of her great-great grandmother's diary. It was hidden long ago, fathoms below her town, and holds the answers to all of her questions, especially one: are the fairy tales and Greek myths that she grew up hearing actually fiction like she was taught to believe, or are they something more…something real?
YA Romance
$2.99
Basketballs and Mistletoe: All's Fair in Love and Sports Series by Julie L. Spencer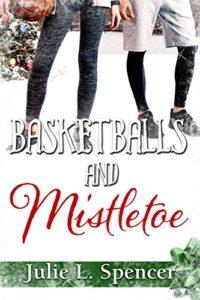 Too many basketballs and not enough kissing.
All Matt Bailey wants is to focus on his position as starting point guard for the varsity basketball team. When an epic kiss and a social media scandal forces him into the arms of the beautiful and spunky Trina Wynter, he finds himself in a fake relationship with a girl just crazy enough to think she can take on the world.
When Trina gets cut from the girls' basketball team, she thinks her senior year is wasted, until a closetful of basketballs and two hundred sprigs of mistletoe bring every athlete in Grand Haven High School together for a good cause, and a great excuse for more kissing.
Basketballs and Mistletoe is a stand-alone novella in the All's Fair in Love and Sports Series.
Paperback is $9.99
Young Adult Poetry, Mashup
2.99
Alice Won? by Joshua Pantalleresco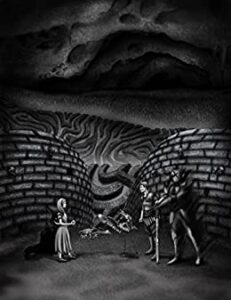 After escaping the Asylum, Alice pursues the fleeing Queen of Hearts and stumbles into the Greek Underworld. Before she knows it, Alice finds herself in a croquet match unlike any other against Jason of the Argonauts. With the Cheshire Cat, Eris by her side (and inside her head) Can Alice survive the game before her?
Poetry
$2.99
Rhymes from the Wicked Nursery by JD Estrada (Author)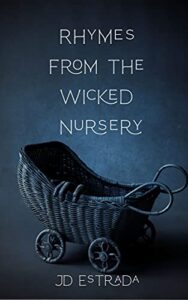 Rhymes from the Wicked Nursery is a poetry collection full of verses that will definitely not go gently into the night. So tuck in, keep a night light handy, and read at your own risk.
This is JD Estrada's 18th release. He really hopes it keeps you up at night while feeling bad at the things that make you giggle.
I DREAM IN LONG SENTENCES – FAROUK ASVAT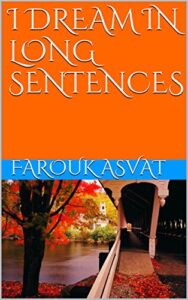 The latest collection of poems by Farouk Asvat
Winner of the Vita Award for his anthology A Celebration Of Flames
"A Celebration Of Flames is a powerful, impassioned call. The sanity and courage of this collection arises from the poet's unique experiential perceptions of his milieu, making him one of the few who can write about these traumatic times with such lucidity and lyricism. The strength of Farouk Asvat's poetry lies in the way he intertwines the complex elements of social and political conflicts with intense personal relationships. The wide tonal range extends from sensual and delicate insights into the nature of passion to the satiric and humorous use of slang."
Vita Award citation
"Like hesitating snowflakes … his words are fascinating in their capricious wilfulness … like unexpected strokes of a whip."
Susanne Baackmann, University Of Albuquerque
"The legend of poet extraordinaire Farouk Asvat: … like vintage wine, proper poetry matures with time, and like vintage art the voice and wisdom of a poet worth the name is timeless."
Mphutlane wa Bofelo, kagablog
Ballads of Hope and Joy by JD Estrada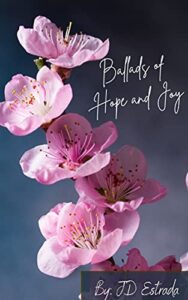 Although the world has always been crazy, recent times have taken things up a notch. So why not offer some balance in the way of words and thoughts which are focused on hope, optimism, and smiles to bring some brightness for your day?
This is JD Estrada's 17th release, and 6th English poetry collection. The idea is that for a poem or three, these verses can inspire you to go for it, to be kinder to yourself or to others, to take a breather, to push, to rest, and do whatever you need to find a slice of happiness. Even in crazy times, there are smiles to find and if a poem can help at least one person find some happy, then why not?
THE WIND STILL SINGS SAD SONGS – FAROUK ASVAT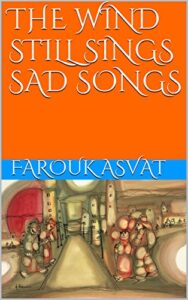 "The legend of poet extraordinaire Farouk Asvat: … like vintage wine, proper poetry matures with time, and like vintage art the voice and wisdom of a poet worth the name is timeless."
Mphutlane wa Bofelo, kagablog
" … a guided tour of the souls of the South Africans he writes about and cares about. … Hauntingly universal …"
Thomas Rome, New York
"The Wind Still Sings Sad Songs … is an important addition to any discerning reader's literary collection."
Victor Metsoamere, Sowetan
Roulette of Rhymes by J.D. Estrada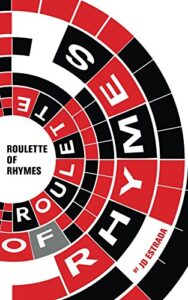 As humans, life is an invitation to experience a variety of emotions. Poetry is a way to express those emotions, no matter how varying they are. Roulette of Rhymes is my tribute to the variety of feelings found within us. Life need not make sense or be planned, it only needs to be experienced and occasionally expressed.
Within this collection you will find a wide variety of poems including the epic 800-line poem, "the Madness of Jonathan J. George". If that sounds random, that's because it is and so is life.
A CELEBRATION OF FLAMES – FAROUK ASVAT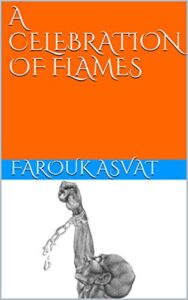 Winner Of The Vita Award
"A Celebration Of Flames is a powerful, impassioned call. The sanity and courage of this collection arises from the poet's unique experiential perceptions of his milieu, making him one of the few who can write about these traumatic times with such lucidity and lyricism. The strength of Farouk Asvat's poetry lies in the way he intertwines the complex elements of social and political conflicts with intense personal relationships. The wide tonal range extends from sensual and delicate insights into the nature of passion to the satiric and humorous use of slang."
Vita Award press release
"Like hesitating snowflakes … his words are fascinating in their capricious wilfulness … like unexpected strokes of a whip."
Susanne Baackmann, University Of Albuquerque, USA
"Farouk Asvat … writes about love and suffering, about individualism, snobbishness, pretence and pride, about human and environmental beauty and about opposing oppression, and who deploys metaphysical, lyrical and colloquial language, slang and standard diction, all with equal strength and ease."
Cosmo Pieterse, Culture In Another South Africa
"Since he has been in the line of fire as both a victim of Apartheid and as a political voice in the struggle for liberation, his evocation of the contemporary South African battlefield and his testimony of the humiliation, isolation, deprivation, degradation and murder, the collective weapons of Apartheid, are chillingly authentic."
Herbert Steyn, English Olympiad, King Edward VII School.
Dark Strands: Stirrings beneath the surface by JD Estrada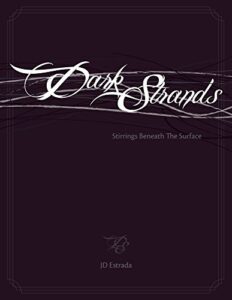 There is beauty in darkness.
Dark Strands is a collection of poetry by JD Estrada where the more shadowy aspects of humanity are explored. As humans, there are many sides to us… and some of them aren't so pretty.
Still, the statement "life is beautiful" is true, even in the not so lovely parts. Anger, sadness, despair, and madness can all have their moment to shine because they can all happen. Experiencing any of these emotions is human… so why not enjoy them in verse as well.
Care to come in and enjoy a slice of the dark? Don't worry, the worst that can happen is that you enjoy it.
THE TIME OF OUR LIVES – FAROUK ASVAT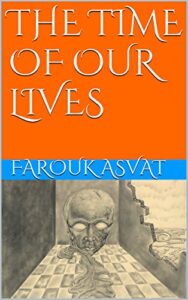 The Time Of Our Lives bears testimony to the resilience and courage of the oppressed in South Africa. Farouk Asvat's poetry is devastatingly forthright and hard-hitting.
His imagery is stark, his poems taut encapsulations of the injustices wreaked on Black people. The poems, with many depths, clever twists and juxtapositions, are exciting, true, and thought-provoking.
The Time of Our Lives reveals a writer who enjoys playing with words – having a sense of rhythm close to the classical poets and an eye for the modern image.
This is the historically important anthology whose poems played such a pivotal role in the struggle against the height of oppression in South Africa. This completely revised edition includes several poems that were not in the original collection and the organisation of the poems into a more coherent order. The Time Of Our Lives accurately portrays what it was like to live and fight, love and die under the discrimination and tyranny of apartheid.
§ FAROUK ASVAT was banned by the South African regime between 1973 and 1978; and nominated an Amnesty International "Prisoner of Conscience". From 1971 to 1995 he received numerous death threats from both the right and left of the political spectrum for his views and writings.
"It bears testimony to the resilience and courage of the oppressed in South Africa … His poetry is devastatingly forthright and hard-hitting."
Tyrone August, The Star
Black Tie Affair by JD Estrada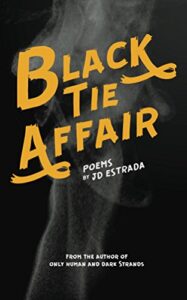 Poetry can be a soft smooth experience or it can be as bitter as a stiff drink. Black Tie Affair is a collection for people who want metaphors that cut like a knife and lines that are less concerned with making something sound nice as they are from offering a shot of truth. Influenced by the intense verses of Charles Bukowski, these are poems bled from deep within to capture something dark yet honest. So if you feel like it, serve yourself a drink, sit down somewhere comfortable, and enjoy. The lines are on me.
BRA FROOKS … – FAROUK ASVAT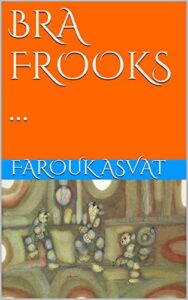 "In Bra Frooks … Asvat uses witty, humorous, sarcastic and satiric language to expose the contradictions, emotional terrains and tensions in both Apartheid and post-Apartheid South Africa. He uses the lingo, voice and logic of the man and woman in the street to expose the absurdity of political repression and social control and the mediocrity and hypocrisy of political and religious dogmatism. The tenacity and resilience of people in the face of repression and suppression is exhibited by their ability to see the humorous side of every situation, laughing at the short-sightedness of their oppressors as well as having a good laugh at themselves. This playfulness and wittiness of slang language comes in handy, especially where Asvat uses narrative, monologue, dialogue/dramatic techniques …"
Mphutlane Wa Bofelo, Bluesology And Bofelosophy
$1.99
A Tale of Her by Maanarak of Grey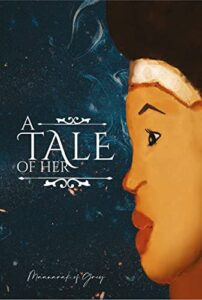 This mix of human experience, poetry, and artwork is for everyone who has experienced heartbreak.
A story by Caribbean author and artist Maanarak. Her raw vulnerability shines and shows us who she truly is: an imperfectly perfect being trying to find her way in this ever-changing world.
You'll remember the pain of losing love as you read. You'll get a glimpse into the soul of another. And you'll remember that what you face, you don't face alone.
With words that cut deep to the quick of what it feels like to love and lose, this blend of personal story, beautiful poetry, and moving artwork will resonate in your soul long after you've turned the final page.
Experience it for yourself now!
Fantasy /Paranormal / YA
$2.99
The Meow Guardians : A Holiday Mini by Maria Vermisoglou
This Christmas the holiday spirit is under threat and only a special stray can save it!
The name's Ginger, AKA Agent Meow 01. Usually, I spend my free time searching for scraps and getting chased by dogs, like the stray cat that I am.
But this Christmas, everything changes.
When the dog agents from PAWs mess up and leave the human world hanging by a thread, it's Ginger to the rescue. With my combination of brains, stealth, and daring, I'm the agent they call when the fur starts to fly. Except this time, I've got a new partner.
A house cat.
With the clock ticking, this mission seems doomed to failure with so many pheromones about.
Paperback is normally $10.99 but on sales for $9.99
Science Fiction
$2.99
Heart of the Valkyrie by Tom Fallwell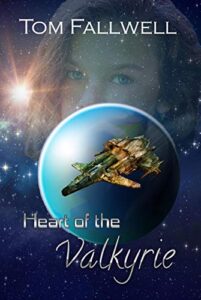 In a future among the stars, the origins of mankind have all but faded into the past. Nathan and his crew aboard the Valkyrie, an extraordinary but ancient ship, enjoy the freedom of the outer systems, away from the despotic rule of the Quanios Empire. But when they suddenly find themselves saddled with an equally extraordinary teenage girl, Sybille, who is now being sought by the Empire, things take a very unexpected turn. They are thrown into a desperate race to locate the lost planet of mankind's origin.
To stop the Empire, they must solve the mystery of Sybille's past and locate Earth first, or it could mean the end of freedom for the known galaxy.
Paperback is also on sale~ normally $19.99 on sale for $16.99
Undying – Kylie Jude
This is a brand new release. More Details to Come!
99¢
Rememory: A Science Fiction Novelette, by Frasier Armitage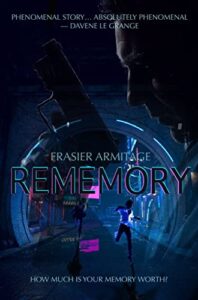 In the future, memory is currency. Felix is broke, on the run, with nothing in his head but a combination of numbers.
Someone robbed him of his mind. Now it's time he took it back.
????? "Armitage deftly executes the fresh concept of memory as currency. REMEMORY is part cyberpunk, part thriller, and a total blast to read. Truly captivating."–EL Strife, Author of the Infinite Spark series and Zedger
????? "A mind-blowing short story about a man on a perilous pursuit to take back his looted memories. I'd absolutely give it five stars."–Dawn Ross, Author of the Dragon Spawn series
????? "Phenomenal story…absolutely phenomenal"–Davene Le Grange, Poet and Author of The Cyber Punk: Ready 2 Play? and other science fiction
Science Fiction and Fantasy
$2.99
In a Quarter of a second and the Glowing rings: The world of present, future and past for all ages adventure series by Anita Kirk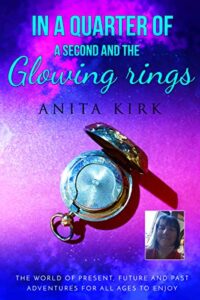 The World of Present, Future, and Past. In a Quarter of a second prologue.
This is a totally different unique adventure, a young group of Space bowling friends get transported thirty years into the future, going on a strange adventure/mission to recover items for the city people, taking their life into their own hands experiencing strange difficulties along the way on their journey.
In the first adventure Jake Train had invented the eye finger, that the group of bowlers have them permanently, attached to one of their fingers, each eye finger takes photos, and they can view around corners that this tool is also used for.
The bowlers have a whistle each, that does different magical things, including talking through them, flying through the air, time travel, a compass, strange whistle noises when blown, that connect with things in the adventure, a light, an amnesia button, and a skate button that helps them skate.
There is a magical shower cap, for each of them inside of the whistle, that helps them to change their size, and into different items.
Some of the bowlers, had won a magical pocket watch, that they use with items, that come to life, that can come out of the pocket watch, when the pocket watch is open, or you can enter into the pocket watch to do lots of different things that are their to help them, with strange, unbelievable things happening.
They have magical chewing gum, that helps them vanish, when they chew it as needed, to help them, when they are in dangerous situations that is kept in their whistle compartments, that works when placed in to their mouth.
The smart flower is unique, and helps to protect them, with a special force field.
They enter different strange rooms, inside of a club, with some good, some bad and, some amazing things happening.
Some people, have tattoos on top of their hands, that are helpful.
They meet their future selves.
Paperback is also on sale for only $8.50
Dream Changing, Anita Kirk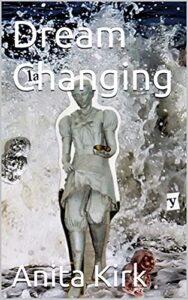 Flora lives in the year two-thousand, and twenty with her daughter Kate living a boring life working full time, with her life about to change, with her in desperate need to go to the opticians for a pair of new glasses, as she arrives at the opticians she receives a pair of glasses through the post with strange buttons on the outside of the packaging that belong to an evil person that chases her, with her working out that they are not normal glasses, with her able to watch peoples strange dreams.
Floras daughter Kate, and her friend Joe find them-selves getting caught up in everything that she gets up to in different unpredictable dangerous eye-catching situations.
Does Flora save the world using magical items to stop the cobweb people, and do people help or hinder her along the way?
Does Flora help people with their dreams to cure them from being cobweb people?
Does Jack the tortoise stop witch Nora stealing items from people's dreams?
Is the dream changer shop safe, or not?
How do they get out of the walking stick world?
They need to work out what exercise helps them to leave.
What do the earrings do?
Do they find the cure?
What does the corkscrew do?
Does Flora find the plug in and see shop good or bad?
You will never see a television, a gym, a swimming pool, or a walking stick in the same way again.
You need to read to find out why, and how the adventure ends, and if people survive the reflections, and cobwebs.
Paperback is also on sales for only $7.00 Read now
99¢
The Dragon Dreamer by J. S. Burke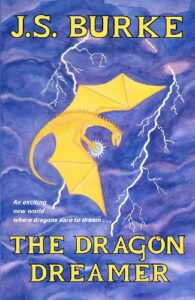 A wounded dragon and an undersea misfit.
Bullied as a worthless dreamer, Arak flies away on a dangerous quest and crashes at sea. A fearless shapeshifter octopus heals the young dragon, and an unexpected friendship begins. Arak returns to the dragon clan, but a terrible illness strikes. Then an undersea volcano erupts, which triggers a deadly chain of events! How can two misfits save the dragons?
Dive into a new fantasy world!
Science Fantasy with dragons and an undersea world, for young adults 9 to 99. "The Dragon Dreamer" won IAN (Book of the Year) First Place for Best First Novel; Finalist for Best Science Fiction and Best Fantasy. It's stand-alone book I of the Dragon Dreamer series.
This Book is a Real Page Turner
"This book is a real page turner. As for the writing, I was amazed…crafted so well you feel as if you are in this world…I will personally recommend this book to all readers." ~ Amazon Reviewer
Unique Book with Highly Imagined Dragon World
"This is an extremely unique book that combines action and adventure with a deep understanding of real ocean life and a highly imagined dragon world. For anyone who has ever been curious about the mysteries of the depths or enchanted with dragons, this book will engage you. If you are drawn to both, the Dragon Dreamer will become your favorite book ever." ~Amazon Reviewer
Fantastic Tale for All Ages
"A fantastic tale woven with dynamic characters and brilliant scenery. This book is one for all ages, you can read it yourself, with your children or with your grandchildren. It is a fantasy built for all ages." ~ Amazon Reviewer
Dragon Lightning by J.S. Burke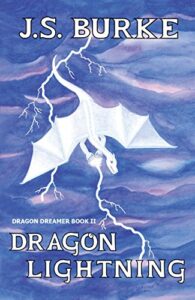 Drakor foresees the doom of dragons.
Drakor seems like a normal young ice dragon with a talent for making lightning swords. But he alone foresees their doom, and none will listen. As he seeks proof, the waking Volcano shakes him off into the frozen sea. Meanwhile, Arak and Scree sail north in search of mythical ice dragons. They find Drakor and a terrifying reality–everyone is in peril! How can this crew of unlikely friends save three realms?
Dive into a new world!
For young adults 9 to 99. "Dragon Lightning" is stand-alone book II of the award-winning Dragon Dreamer series: Science Fantasy with dragons, an undersea world, and unlikely friendships. "Dragon Lightning" won the Pinnacle First Place Award for Best Science Fantasy and the IAN (Book of the Year) First Place Award for Best Science Fiction. It's also an IAN Finalist for Best Fantasy and Best Young Adult book.
What reviewers are saying:
I had trouble putting the bookdown
"The plot unfolds with a masterful blend of science, fantasy, and wonderfully developed characters. I had trouble putting the book down." ~ Amazon Reviewer
Dive In
Free
Suffer The Little Children TL Helmuth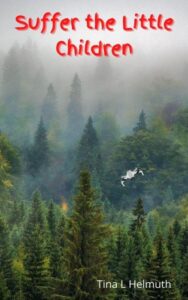 What happens when you accidentally film a child being sacrificed?
Andy Thomas loves using his drone to film in the California Redwoods, only this time he captures something terrifying that will stay with him forever. Security sees the camera lights on the drone and Andy is now running for his life, not knowing whom to trust.
Tina L. Helmuth is writing an ongoing series of thrilling "FACT-FICTION" books that boldly take on today's most heinous crimes; the abduction, sexual trafficking and cannibalization of our children. "Suffer the Little Children" is the first book in the Yah-Struck series and an introduction to a dark current that lies beneath the surface of our society. Deeply researched and mixed with the supernatural- good versus evil makes this thriller hard to put down. Shining a light on the root cause of these crimes and introducing a spiritual solution. Justice will be served!
Science Fantasy Horror
99¢
The Wrath of the Father TLHelmuth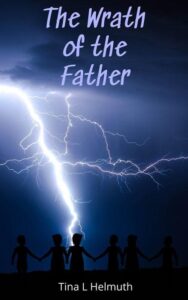 Time is crucial when your child has been kidnapped!!
Steven Simpson's daughter's horse has come home without her. He understands that something has happened to her and he realizes he's now in a race against time to ger her back. Steven knows he can't do it alone.
The Wrath of the Father is the second book in The Yah-Struck series. The Wrath of The Father is a nail biting chase to recover kidnapped children before it's too late. With the guidance of Yahuah through the Covenant family members, they fight back against all odds. Sometimes it just takes the toss of a coin to choose between good and evil.
Fantasy/ Horror
99¢
The Killing Parts by Frank Montellano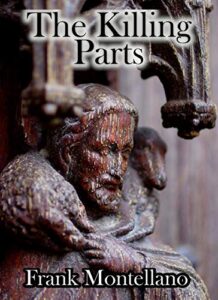 A funeral in the small town of Pine Bend leads to a disturbing chain of events as a grieving father becomes obsessed with finding a cure, for Death! How far would you go to protect the ones you love from the Grim Reaper? Read what happens when Man mucks around with the primal forces of Life and Death.
An excerpt from The Killing Parts:
One door swung open and a wild mane of black hair popped out. "Hello, Cousin! Hello! No need for all that. Come in, come in! I've done it!" A frenzied look filled the pair of brown sunken eyes. "I've perfected every parent's dream. Frigg's Pledge!"
Early reviews are in:
"..,dramatic and petrifying!"
"There's nothing more I can say than 'Wow'"
"A brilliant page-turner!"
"In The Killing Parts, one wonders where reality ends and fantasy takes over."
"I still have enough good sense to recognize talent when I see it. Welcome to an emule (imitator) of Stephen King."
Fantasy/ LitRPG
99¢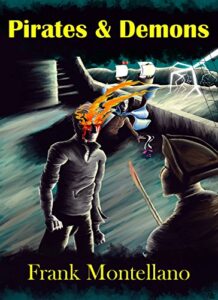 Pulp Fiction for the Fantasy crowd!
A quiet day during a long ocean voyage turns into a deadly chase as pirate ships appear on the horizon. Passengers and crew band together in a desperate attempt to save their ship from the dreaded Ice Pirates. But all is not as it seems as pirates aren't the only danger on the high seas, and one of the passengers hides a dangerous secret.
Black Char & the Crystal Caves: It's a Trap! by Frank Montellano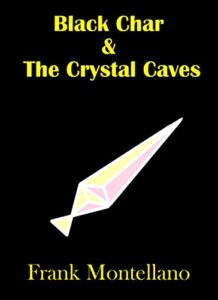 Come along for a wild ride full of magic and mystery as desperate men and women risk the dangers of the legendary crystal caves in search of their hearts' desires. Black Char the Explorer reluctantly guides an expedition into the dark depths, where ancient magics create crystal wonders powerful enough to change the world. But the caves hold many secrets, such as why the caves grow such powerful crystal artifacts. Deadly magics, burning lava, crazy cultists, necromantic energies and other hazards stand in the way of anyone coming to claim a crystal treasure. Fame and fortune await those who make it out alive!
From Black Char & the Crystal Caves:
Black Char's voice took on a tone of reverence… "Like the legends say, the swords are there for the taking. It's all true. On the cavern walls, in columns, the ground, everywhere."
Note: This tale is set in the same land as Pirates & Demons: Eye of Dog. It is not necessary to read Pirates & Demons as these are both standalone stories.
Short Stories
$2.99
From A Heart-Shaped Box by Keira Lane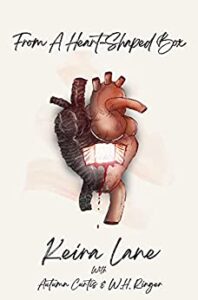 Fragments of memories. False promises. Shattered dreams. We are forged into ever-changing masterpieces by the gravity of the keepsakes we choose to collect.
The adhesive binding the fragile remnants of our souls? Love.
From the fractured soul of author Keira Lane, who helped bring The East Wind: A Horror & Weird Fiction Collection to life, featuring stories from Autumn Curtis and W.H. Ringer comes a new anthology straight from her heart.
Though the stories within From A Heart-Shaped Box are works of fiction, Keira Lane draws upon her own experiences to share glimpses of her heart and soul. She captures raw sentiment and shares it with the reader to let them know that while life experiences differ, emotions don't, and we are truly never alone.
Paperback is normally $13.49, sale $9.99 Grab a Copy
The Fish Tank: And Other Short Stories by Maria Elena Alonso-Sierra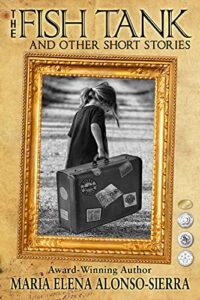 SHORT STORIES ABOUT STRONG WOMEN, CUBAN EXILE, GHOSTS… AND A MURDER.
"The Fish Tank is a gracefully-written, varied collection of entertaining, touching, suspenseful, and thought-provoking short stories. Maria Elena skillfully paints rich scenes and crafts interesting characters. Her prose is vivid and distinct. You will not want to miss this collection!" — NY Literary Magazine.
"The Fish Tank is at times fun, exhilarating, haunting and intriguing. The author has done an excellent job of capturing the essence of the short story genre in this fantastic collection." — Feathered Quill Book Awards.
"From suspense, to romance, to real-life stories from the author's own past, the finely tuned craft of the short story is clearly evident in this collection. Each story is engaging, thought-provoking and memorable. This is clearly an author who writes with style and with class." — Emily-Jane Hills Orford for Readers' Favorite Awards.
"The ambience of each unfolding story moodily fluctuates while continuing the ambience of haunting hope interwoven with a lingering sadness of passing." — Paul White, Electric Eclectic Blog.
Two times winner of the Silver medal at Readers' Favorite 2018 International Book Awards and the Feathered Quill Book Awards 2018. It has also garnered a B.R.A.G. Book Award Medallion.
Fairy Herds and Mythscapes by Kerry E.B. Black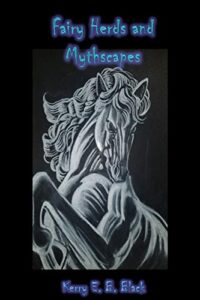 A 3rd collection of short horror by Kerry E.B. Black, author of 2020 The Author Zone (TAZ) award-winning anthology Herd of Nightmares. This latest volume of short stories stampedes into the realm of tales inspired by global fairy tales and myths. To survive a trip through the vale of the fair folk, you must know the rules. Be polite, but don't say thank you. Iron brings death to the fey, so if you carry it, be prepared for aggression. Stick to the path, keep your word, and be industrious. And Never eat goblin food. (There are many more. They can be fun.)
Paperback is on sale on the author's website. Normally $12.95, now $8.95
Tales Told 'Round Celestial Campfires Joseph Carrabis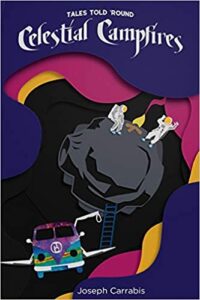 … everything written here actually happened
No, really, it did. I've seen things and been places and met…creatures…most people can't imagine. Or wouldn't want to. Or should. It all depends on the person and the creature.But much like Gahan Wilson's "I only paint what I see", I only write about what's actually happened…
"These stories have the flavor of an old sea tale, or something told around a campfire late at night. You have a wonderful distinctive voice." – Boston, MA
"I loved the feel, the tone of your writing – it is very sensitive, ethereal."– Walnut Creek, CA
"Extremely powerful storytelling!"–St. Louis, MO
So sit back, relax, have something tasty near at hand or tentacle or claw. Read these when other people are around…if you can trust they're really people. Or read them alone, when it's dark out. Maybe. Unless you're not sure what things go bump in the night or scurry unseen in the dark.
Please email me a picture of you holding my book (you can find me on Facebook, LinkedIn and Twitter). We'd like to know who's reading it and where.
Daydreams on the Sherbet Shore by JD Estrada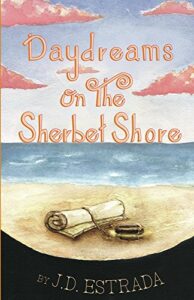 Beyond your waking life and tucked gently between your slumbering eyes and the heart of your soul, there lies the Sherbet Shore. The land where it is located is called Draem; it's past Raelity and a bit to the left of the Sea of Hope. In this magical land, it's not that dreams come true; it's that we become our dreams.
There's the Kung-Fu Circus, the Parched Pumpkin, the Down Pond and dozens of other places that we discover and create, one wonder at a time. You can drink Curiosity Cola, taste Peppermint Rain or simply enjoy a ride on a dragon ship, a kangaroo, or glide across fields on soapy skates.
So feel free to drop on by. After all, life is just a dream.
J.D. Estrada is a Puerto Rican author who writes novels, poetry collections and connects with people through all sorts of social media platforms and his blog For Writing Out Loud. This is his first collection of young adult short stories and his tribute to the healing and unifying power of dreams and the joys of embracing our inner children.
THE PAANIES ARE COMING – FAROUK ASVAT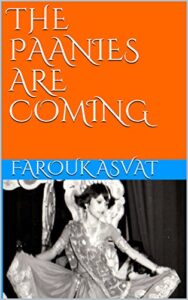 Although these stories are written in English,
these are the original versions:
with some of the original words, phrases and dialogue
in cape town slang / skollie taal / kaapse praatjies /
kombuis afrikaans / durbanite / zulu / & local patois.
The complete English versions of the following stories:
The Paanies Are Coming,
The Victim, &
An Affair With The Sky's The Limit,
were previously published as a collection titled:
The Gathering Of The Storm.
Kaaperi was previously unpublished, either in English or slang.
THIS MASQUERADE – FAROUK ASVAT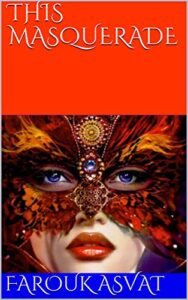 • FAROUK ASVAT is the winner of the Vita Literary Award for his anthology, "A Celebration of Flames". § THIS MASQUERADE by FAROUK ASVAT contents: The Barrier Forgiveness Piet Bahia Kaaperi This Masquerade Sunday Morning Haircut From A Corner A Life Come True Set in Johannesburg and Cape Town in the heydays of apartheid, these stories act as a compendium to Farouk Asvat's novels and poems. These short stories are in addition to the stories in: ? The Gathering Of The Storm &? The Paanies Are Coming• § Farouk Asvat is a novelist, poet, translator & medical doctor, banned by the apartheid regime. § He was awarded the VITA Literary Award fo his anthology, "A Celebration Of Flames". § He was an Amnesty International "Prisoner of Conscience"; awarded the Fulbright Scholarship to the University of California at Berkeley; the EOC Scholarship to the Vrije Universiteit in the Netherlands; the University of Cape Town Health Care Trust Scholarship; and the Kwanzaa Honors Certificate by the Africa Network. § He qualified as a medical doctor at the University of the Witwatersrand, and worked at various community clinics and hospitals. § His poems, short stories and essays have been published in the United States, Canada, Brazil, Turkey, Switzerland, Netherlands, France, Germany, England and South Africa. § His poems have been translated into French, German, Dutch, Portuguese, and Turkish. § He has read his poems at numerous community venues in South Africa and abroad. § He has freelanced as a journalist, columnist and art critic for various newspapers.
THE GATHERING OF THE STORM – FAROUK ASVAT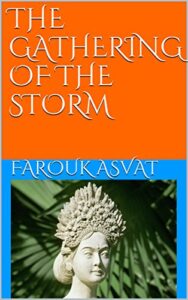 "If the way to create
is the way to kill,
I have hoarded enough blood
in my throat
for all the hyenas to suck from."
[] Shiv K Kumar
The Gathering Of The Storm is a continuation of Siddique's odyssey in Sadness In The House Of Love. The volume consists of three novellas: Before The Deluge, set amidst the growing violence and humidity of a subtropical coastal city; The Victim, portrays the increasing racist violence in a coastal small town; and An Affair With The Sky's The Limit, is Siddique's continuing quest for love and freedom in an oppressive society.
Mystery/ Thriller
$2.99
The Tenant from Hell (The Realtor Mysteries Book 1) by Kathleen Walls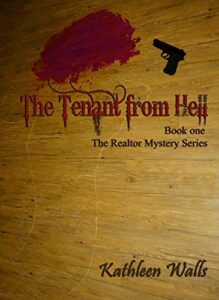 This book won Silver in the Mystery Fiction category in the Dan Poynter's Ebook competition for 2021.
You might think a property manager at a large real estate firm would be a dull job. It's normally routine for Casey Clark, Property Manager at Peller Realty. When a tenant refuses to pay rent, just evict and move on. Not so with the tenant from Hell. When the police capture Casey in the apartment with her tenant, who was shot dead moments before, she is the first suspect in his murder. She learns too late he was not who he seemed. Her world is no longer what it was. When she flees to Helen, Georgia, under an assumed identity, she learns many of the persons involved in the case are not what they seem. Her trip to one of Georgia's top-tourist destinations becomes a trip to Hell. Casey's search for answers draws her into murder, drug rings, ghosts, and Indians. Her former problem of having to deal with her psychic cat, Dixie, not getting along with her pirate boyfriend's parrot, changes into deciding whom she can trust as she scrambles to stay alive. Join Casey as she deals with advice from spirits, sorts through ancient legends, explores the world of music in the mountains, and chooses which law enforcement officers to trust and which are toxic. Her life depends on her making the right choices. It's a thrill ride from the nation's oldest city to the twists and turns of Appalachia's mountain roads.
Double Duplicity (The Realtor Mysteries Book 2) by Kathleen Walls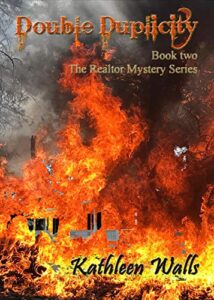 Casey's in trouble again. It's bad when you have a bad tenant renting one side of a duplex and dying in a suspicious fire. When her twin sister shows up, and the police start investigating your motives, you've got double duplicity.
The Ranch House Heist (The Realtor Mysteries Book 3) by Kathleen Walls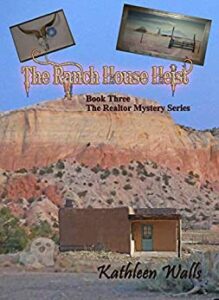 I debated whether to be a fool and rush in to help Lonnie or sensibly wait for the police; an EMT vehicle saved me the debate. Before I could open the door, they pulled in behind me, siren screaming and directly behind was a sheriff's car.
The EMTs were already heading towards the door. I stepped out and turned to see Joe Scalini and Andrea Johansen getting out of the unmarked and heading my way. Andrea had a friendly grin but Joe was stone faced. We had met earlier when they had been the local deputies investigating the Tenant from Hell case. At the time Andrea has seemed like she was ready to toss me in jail for the murder and Joe was more reasonable. Since Joe and I had dated a lot until my last murdered tenant, had caused the sheriff to ask Joe to stop seeing me until I was cleared as a suspect. I seem to attract murdered tenants. Anyway, the break caused me to reconsider and during that time Roger had come back into my life. Joe and I were still friends-sort of.
I remained on friendly terms with Andrea and her wife. Andrea was lesbian and married to a ranger at Fort Mose named Mollie.
Joe's was casual and polite but his smile was professional rather than friendly. "Why am I not surprised to see you here, Casey? Do you manage this house, too?"
"No," I answered and quickly gave him a rundown on Lonnie's phone call and what I had heard.
"Please remain here and stay inside your car," he told me and trotted up the walkway to the house with Andrea. I heard him saying what sounded like telling the crime scene people to get here fast. I got back in my car and called Anne at the office. "I'm here and the police and EMTs are inside checking. Have you heard anything more from Lonnie?"
"No," she said. "I'm scared something bad has happened. Lonnie is pretty level-headed and would have called back if everything was okay."
Within what seemed like seconds the crime scene guys arrived and entered the house. Minutes later, one of the EMTs came out and met a man who had just pulled up in the driveway. Since I could see a uniformed officer standing guard at the gate, I assumed this was another police office.
The new arrival was carrying what looked like a doctor's bag from the days when doctors made house calls. Andrea came out. They exchanged a few words, and she escorted the new arrival inside.
Within minutes, another vehicle arrived. This one was a hearse. The driver got out and pulled a gurney from the vehicle. He went inside, and he and the EMT's emerged with the gurney. It was occupied.
I was keeping Anne apprised of what was happening. By now Lisa Lee, our broker, had gotten to the office and I could hear her in the background asking Anne what was going on? I got off the call with Anne and stepped closer. The gurney occupant was a large person about Lonnie's size. He was enclosed in a body bag. "Noooo!" I screamed.
Last Step By Kathleen Walls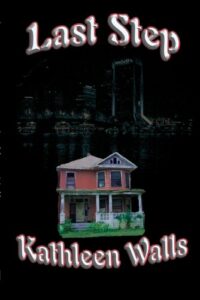 Vickie's daughter is dead. Just one more dead druggie among the hundreds that die each year in Jacksonville's drug infested slums. The police aren't concerned about her drug-related death.
VICKIE needs to find the answer. Was it an accidental overdose, or murder? To find the answer, she must leave her safe life behind and plunge into the terrors of the drug culture. Will the search lead her to love? Or will she end up on a morgue slab, just one more casualty in the war against drugs?
HANK His mistakes caused the death of those he loved most. Drug addiction is his sworn enemy. His chosen life has no place in it for love until he meets Vickie.
JOE His money and power haven't been able to save his marriage or his son's love. He seeks Vickie's love but what are his secrets?
Missing: Gone but not Forgotten by Kathleen Walls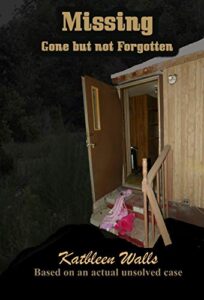 Based on an actual abduction that has never been solved filled with drugs, violence, and lies.
"Missing– Gone but not Forgotten." is about the abduction of a little girl in a rural Florida community. Drugs, family feuds, underage sex, and lots of lies abound. Since this is a fictionalized version, my biggest challenge is to keep it exciting and still true to the real life case upon which the story is based. Another big challenge is when I have my protagonists give their opinions as to what really happened to the missing child, is to be able to back up their ideas with facts that they have already learned. In their investigation, The real life case has never been solved. I lived in the county the abduction occurred at one time, and followed the case from day one, so it feels very personal.
99¢
Over The River and Through The Woods by Kylie Jude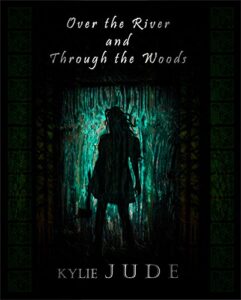 Inspired by a nightmare, "Over The River and Through The Woods" follows a teenage girl named Charlotte, who visits her aging grandmother Abby in the woods for a weekend. But Abby isn't quite the same grandmother she remembers from seven years earlier. Her mind is fading fast, and so are her manners. As Abby's mood swings grow more and more violent, Charlotte begins hearing strange noises around the old cabin, and soon begins to wonder if she, too, is losing her mind.
Horror/Mystery
$2.99
Rumble Nikki Nelson-Hicks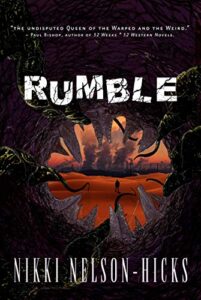 BE CAREFUL WHERE YOU DIG…There is something very wrong in the Gobi Desert at the natural gas mining camp, BST147.Two weeks ago, satellite photos showed a thriving operation.Two days ago, a war zone.That's where the Stonecipher Tactical Security team comes into play. Hired to do a simple search and rescue, the situation quickly turns when the sun goes down and the team is attacked by creatures from above and below. To say nothing of the other dangers lurking all around them: a wild man whose flesh is carved with arcane symbols, Eco-terrorists and, most dangerous of all, an office bureaucrat with a clipboard.It's going to be a long night.
paperback normally $5.99, on sales for $3.99 Stack that shelf
Time Travel Mystery
$2.99
Kudzu By Kathleen Walls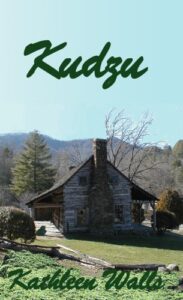 After a painful divorce, Casey returns to the haven of her childhood, her great grandmother Weesie's tiny log cabin. Nestled deep in the Appalachian Mountains of North Georgia, the cabin rekindles memories of her happiest years as a young child enjoying Granny Weesie's tales of treasure. Casey seeks a peaceful refuge she will share only with her cat, Smokey. These ancient mountains are part of her blood and her culture. The beauty and the customs have always been sacred to her. However, much more than early memories await Casey in Bluejay, Georgia.
By chance, or was it design, Weesie's childhood diary turns up in the cabin. The scrawled pages transport Casey back into the late nineteenth century. Far from finding the peaceful time she expects there, she uncovers a web of adultery, murder and intrigue that threatens to entangle Casey's twenty-first century life.
That life threatens to become more complex when her new neighbor turns out to be a handsome victim of his own marital disaster. Lee Schmidt has vowed never to let another woman mangle his life.
As Casey is drawn deeper into Weesie's life and times, her "real" life becomes more complicated by her growing attraction to Lee. Some strange occurrences happen in the cabin mirrored by tales of ghostly sightings in her family history. Her involvement with things past increases. As she travels back to 1879 via Louisa's diary, she meets an intriguing cast of characters. Donald Stuart, her "sister" Lillith's faithful lover, David, his evil hearted twin brother, Ma and Da Garrett, Louisa's parents and her own direct ancestors, and the other inhabitants of early Bluejay.
Paranormal Mystery
$1.99
Dead Before Dying by Kerry Schafer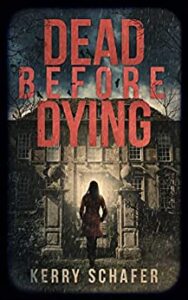 Sidelined by an on the job injury, veteran paranormal investigator Maureen Keslyn reluctantly accepts an assignment at Shadow Valley Manor, an upscale retirement facility where someone—or something—is picking off residents and staff at a grisly clip. With her resources dwindling one death at a time and unnatural forces on the loose, Maureen's experience fighting the supernatural provides her only hope to destroy a clever and powerful evil before everybody in the manor—and the town—winds up dead. Together with a ragtag team that includes the local sheriff, the undertaker's daughter, and the facility cook whose knife skills in the kitchen could prove deadly out of it–Maureen is on a mission to bring rest to the weary, and peace to the dead…
"Delightfully dark humor . . . Supernatural thrills and a fast-paced, complex plot . . . One of the best and most unique series I've read in a very long time" ~Susan Spann, author of The Shinobi Mysteries).
"What do you get when you cross a supernatural thriller with a cozy mystery, set it in a nursing home, and top it off with a geriatric vampire? A deliciously spine-tingling read full of original characters and biting wit you don't want to miss, that's what!" —Linda Grimes, author of the Ciel Halligan series
"A fun mystery with an amazing main character I loved. Very much recommended." —Alex Hughes, author of the Mindspace Investigations Series
"Creepy suspense, insidious evil, and things that go bump in the night infuse this story with thrills and chills all the way to a terrifying ending." —Nancy J. Cohen, author of The Bad Hair Mysteries
"A smart and tenacious band of heroes—led by one kick-ass heroine . . . An engaging, sizzling start to a new series." —Tammy Kaehler, award-winning author of the Kate Reilly Mystery Series
"Paranormal thrills, a feisty middle-aged heroine, and a tantalizing mystery set in a creepy rest home . . . Clever, fast-paced, and fun." —Lisa Alber, author of Kilmoon and Whispers in the Mist.
Paranormal Thrillers
$2.99
The Box – Victoria M. Patton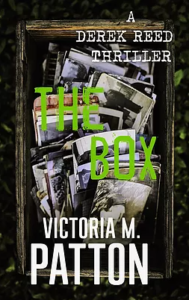 A cold case, a serial killer, and a dead girl that won't go away.
Profiler FBI Agent Derek Reed is dealing with a costly mistake. A mistake leaving him with horrible physical injuries, plagued by nightmares, and the harsh reality a girl is dead because of him.
Forced into a sixty-day medical leave, he heads from Arizona to Tennessee to see his family. Using his love of photography, he decides taking photos of old abandoned buildings will help distract him from the mess he's made.
When he finds an old tin box at a farmhouse, he's sure his luck is about to change. But instead of a treasure, he finds the trophies of a serial killer. Four photos of four girls. Murdered over the course of one year, beginning in 1985.
Current cases are hard enough, but tracking a killer from over thirty years ago is almost impossible. Knowing he can't ask for help from his unit, he questions if he should bury the box and walk away. Not being able to leave a puzzle unsolved, Derek decides to hunt for a killer.
Driven by guilt, he hopes solving this case will help him atone for his past sins—a deadly mistake from his childhood. But chasing a ghost from the past stirs up old memories. Memories Derek buried for a reason.
Erotic Thrillers
$2.99
Sweet Girls by S.I. Hayes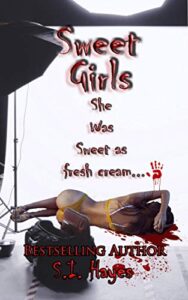 You should always trust your instincts…
Three Best friends out for the weekend, a party that seemed innocent enough. Then everything goes terribly wrong. Makenzie (Mack) Leighton is a Los Angeles cop and her private and personal lives have just collided.
One friend lies in a hospital bed while the other is missing. The target of a sexual sadist and serial rapist that the F.B.I. has been trailing for more than a year.
Now she must contend with Special Agents on her turf and getting in the way of her investigation.
Time is of the essence as The Photographer has never taken a victim before and they have no idea how long Alley Masters has left.
*Trigger warning
**Erotic Elements
*** Graphic Violence
Paranormal Romance
2.99
California Moon (The Natural Alpha Series Book 1) by S.I. Hayes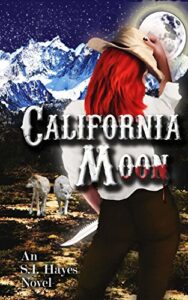 Danny Johnston is a young bounty hunter, who for three years to hone her craft has lived and loved as a man. In pursuit of a lead to her family's killers, Danny is thrown from her horse and attacked by something she cannot identify.
Jake Dorsey is a man traveling on his own while trying to leave his demons behind. When he finds Danny's horse and returns it, he is awestruck, aware of the bounty hunter's reputation.
They decide to travel together, if only to ease the burdens of traveling alone. Secrets and complicated situations compound as Jake believes Danny to be a man, while Danny believes Jake to be a Human.
When the truth is finally discovered, will starting an affair prove simple or will Danny be left to make the hard choice? Can she forgo vengeance for love or will the desire to keep her blood oaths prove stronger?
*Trigger Warning: Violence
* *Erotic Elements
Ebook will be Free 26th-30th
Midnight Run by S.I. Hayes
Gage Louvell has just arrived in Wyoming for a Summer long festival. Werewolves fly in from all over the country to attend this event and the young wolf finds himself alone and full of trepidations, he wants to be part of the community, be accepted. He's about to find out just what it takes to meet those ends.
*Trigger Warning: Violence
* *Erotic Elements
1.99
The Last Danann: Titanian Chronicles 2 Kindle Edition by Victoria Saccenti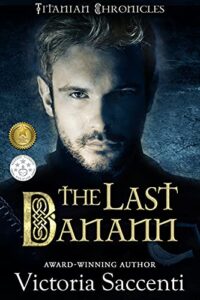 He struck a devil's bargain to save his people. Now he must risk more to save his love.
In exchange for his people's safe passage into Tir na nÓg, Kailen pledged his sword to the Titanians to defeat the daemon horde. Centuries later, the grief of his losses heavy, Kailen has sworn that while his body is open to carnal pleasures, his heart is closed to love.
Even when it comes to a Druid-trained healer of mysterious origins who serves in the house of Soren, the greatest Titanian warrior. Talaith. This lavender-eyed beauty is his one gentle memory out of centuries drenched in blood.
Not long ago, Talaith willingly lent her powers—such as they are—as Kailen raced to save Soren's life. Otherwise, she fiercely hides the heart she lost long ago to the lonely, taciturn Tuatha Dé Danann warrior.
When Kailen and Talaith join forces to aid the Titanians against a renewed daemon attack, the walls between them crumble in fierce, emotional passion. But when death magic strikes, the price Kailen willingly pays to keep Talaith safe could tear them apart forever.
The Titanian Universe continues…
Paranormal Reverse Harem Romance
2.99
Pact with the Pack, AJ Mullican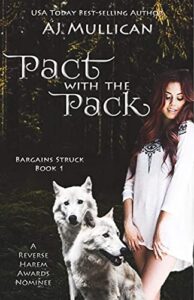 Cherry Duvall's had a rough week.
After escaping an abusive, controlling ex with her jugular barely intact, Cherry finds out Eric's skipped bail—and he's out for her blood. Cherry jumps on her motorcycle, and it's through the woods to grandmother's house she goes in an attempt to get out of town while the getting's good.
Too bad Eric beat her there. Cherry's too late to save her granny, and things get hairy when Eric threatens her with his knife.
Things get even hairier when five larger-than-life wolves appear in her granny's cabin to battle Cherry's attacker.
Dive into a world of sexy shifters and pack dynamics in this steamy reverse harem romp!
Paperback on sale-Regular $12.99, sale $9.99
Dark mafia romance
$2.99
Broken Chains Karina Kantas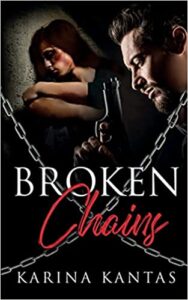 If only she had stuck to singing in bars.
If only the idea of wanting to become an author had never entered her mind.
If only she'd never met Alex.
That one meeting had caused an avalanche of fate to clash with a dangerous destiny that forced Liz Finely to become the most wanted woman in the world. Stalked by three deadly mafia bosses, Liz has to learn to survive. Passed from one brutal hand to another, tortured, and abused, it's her blood, her name, which lands her in trouble each time.
Now it's up to Liz to find the strength accept and become who she's meant to be, and finally break the chains that bind her.
This novel is a dark mafia romance for 18+ due to the graphic sex and violence
Romantic Suspense
$2.99
Irish Eyes And Mafia Lies by J. Haney & S.I. Hayes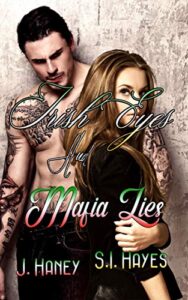 After witnessing the brutal beating of her father at Irish Mob boss Antaine Sorley's hand, Onóra Russo is on the run. Together with her little brother Finn she has fled the safety of her Chicago home for places unknown.
Her instincts say keep running, but loyalty says to do as Daddy instructed. Make the call to the one man who can help her. What happens when the one who answers isn't who she expects?
Can Onóra trust this Irishman who claims neutrality? With the Irish and Italian's looking for them does she have a choice?
Rónán knew, knew before he traced the call it was going to be trouble. Then he heard her Siren's call and couldn't refuse. It may put his life on the line, but he'll help her, whatever the cost. Even if that cost is his heart.
MisGiving Hearts by J. Haney & S.I. Hayes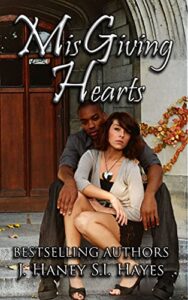 They thought they were safe in their elite little world. They couldn't have been more wrong.
When Charity Daniels was seventeen she fell in love with Literature, and a man who taught it. Their forbidden love was held back until graduation, until legally she could be his.
Flash forward three years, Charity is studying at Yale and still in love with her Princeton Man.
Quinn (Q) Everett is on scholarship at Yale, and finds himself inexplicably in Charity's path. He tries to stay away, but his mouthy best friend thinks he knows better. Suddenly it's lunches and crashing private plans for the duo just to see her.
But their flirtations do not go unseen, and Logan's love turns and goes from jealousy to murderous intent.
Can these unproven lovers stay the course and avoid the devious plot of a scorn man or will everything crash and burn?
*Trigger warning: Violence
**Strong Sexual Situations
An Unexpected Love by J. Haney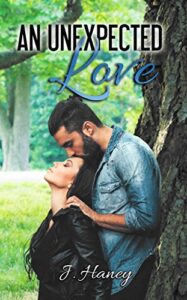 Their worlds were fused together by a single ringing of the telephone.
Kyler Jefferson was just sixteen when her family was brutally murdered. Left pregnant and alone she has been running for nearly a decade from place to place, terrified that one day they would be found by the mysterious caller with sinister intentions.
Since the deaths of his mother and sister, Caleb Hudson has been living the bachelor's life. As a private investigator he usually handles cheating spouses and missing persons, which suits him just fine. While investigating a routine case he finds himself thrust into Kyler's life, consumed by a profound need to protect her from a past he knows nothing about.
They are two people going down separate roads; one running for her life, the other trying to maintain what's left of his own. How can they preserve their lives when fate has decided she has other plans?
Paperback is also on sales for 9.99 instead of 15.99 and ebook will be on sale for only 99c December 8th – 14th
Dystopian Romance
$2.99
Warehouse Dreams by Theresa Halvorsen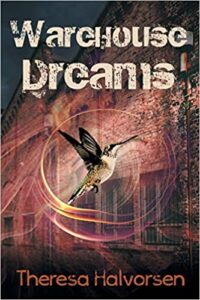 Kendle's job is on the line every time she rescues a Wild teen. But Wilds, with their uncontrolled psychic abilities, need her help. They need the chronically underfunded Warehouse, the only school available for Wilds. But accepting a teen with potentially dangerous abilities puts her at odds with her boss; refusing means the teen faces life institutionalized, sedated, and under restraint. Stephen, the new telepathy teacher, is a Bred. His wealthy parents paid for his perfect genetic code. He's not used to the Warehouse's long hours, to students who float beds through walls during nightmares, or send fishbowls through windows—not to mention the food sucks. The only bright spot is the fascinating Wild teacher in the next room who plays amazing cello or guitar music late at night. Kendle doesn't think Stephen belongs at the Warehouse, but when he helps save her and her students from a violent mob, she wonders if she was wrong…and if a Bred like Stephen might fall for a Wild like her. But Kendle has little time for romance. As society ramps up its hatred ofWilds and the Warehouse's resources stretch desperately thin, Kendle must find a way to keep the director from expelling the most gifted students as dangers to the school.
Paperback on sales Normally 15.99, sales 12.99
Contemporary Romance
$2.99
Hollyhock: Yuletide by J. Haney & S.I. Hayes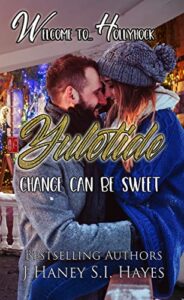 Just an hour North East of Bar and Winter Harbours, is the sleepy little town of Hollyhock, Maine. With its border on the Arcadian National Park, it is the perfect place to get away for a long weekend or in the case of Seraphine Haven maybe the rest of your life. Jaded from a lost relationship she has come to town to remake herself and serve up a few sweet concoctions. Little did she know the meddling that was about to fill her days and cold winter nights this Christmas. Issac Skuyler has failed to land, as his father puts it. The son of a florist and longshore fisherman it was the creative blooms that attracted him and kept him home. At thirty-five he's single and running his own shop, but there's just one small hitch- he's still in his father's house- specifically his basement. When the cold November air blows in a pretty stranger will it be enough to turn Issac's head or will his family push too hard leaving Issac to the flowers and wreaths for the rest of the Yuletide season?
Shafted by J. Haney & S.I. Hayes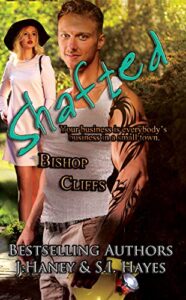 Your Business is Everybody's Business in a Small Town.
Ten years ago, Willow Kennedy and Reid McHale were in love. Then College and life got in the way, tearing them apart.
After finding her fiancé in bed with a floozy, Willow is convinced to go home for her class reunion, her one hope, NOT to see Reid McHale.
So much for that.
Reid McHale, having wasted years in the mines, is a bit bitter. After running into Willow, quite literally, he tries all he can to avoid the woman who broke his heart, but this small-town man can't seem to shake her.
What's worse, the attraction between them is all-consuming and unavoidable.
Can it work for these once upon a time lovers, or will the whole relationship simply get the Shaft?
Strong Sexual Situations
Strong Language
Drug Reference
Violence
Administrative Duties by S.I. Hayes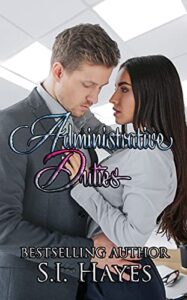 Love at Rincon Point by J. Haney & S.I. Hayes
Taniel Jacobs is in an open relationship, he meets LitheinLeather, a masked woman nearly twenty years older than him for a single encounter. All was going great until he breaks a few rules… An honest man, he plans to break it to his girl, only to find she's broken their key rule. She's seeing someone on the regular.
Relationship gone… But the Black's Guild Publishing Company will fill the void. Especially with the sexy Cassandra Blackguild to look at all day long.
Cassandra Blackguild is a forty-year-old publishing mogul, she is also unbeknownst to Taniel, LitheinLeather. Recognizing him, the first day on the job.
One wet kiss and she can't get the man out of her head. Will she take the chance and reveal her identity, or will it just be all work and no play for this sexy cougar and her young nubile Administrative Assistant?
*Trigger Warning:
* *Erotic Elements
Love at Rincon Point by J. Haney & S.I. Hayes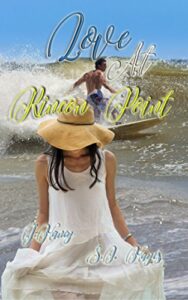 1 sexy surfer + 1 single mom = One Helluva summer!
Successful, driven, and divorced mom Addilyn Tate writes romance novels. She has only eleven weeks to deliver her next bestseller to the publisher while scouting film locations.
This year's annual beach vacation with her kids, Bexley, Ryker, and Laken, will be a working vacation for Addilyn. Upon arrival, the family soon meets their new next-door neighbor and landlord, buoyant, reckless surfer Declan Torrance, with whom they will be sharing walls and a patio for the next two months.
Declan cranks up his music at night, sleeps late, and allows his furry friends to run around at will. As Addilyn bangs away at her novel with little success, Declan's volleyball matches and irregular hours keep her from much progress. But when Declan finds himself bonding with Bexley, Ryker, and Laken, Addilyn begins to see a different side of this man child.
Soon the two begin to see each other in a whole new–and attractive light.
This is a Beach read for the over 18 crowd, it contains mild violence and Adult situations expected in open door mainstream romance.
Penned State by S.I. hayes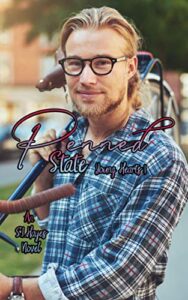 Calvin Pennington is a good boy.
He goes to school, gets good grades. Always does his homework and always listens to mother and father. Except in one thing.
His friendship with Kaycee McLane. Much to his parent's dismay, he has befriended the girl from the wrong side of town and he will not shake her.
What happens when Calvin decides he wants more?
Will his family give? Or will they dig in their heels and put a stop to this budding romance before it starts?
Can Calvin stand up to his family, and if he does, can he accept the consequences?
*Trigger Warning
**Stong Sexual Content
***Drug Use
Un-Leashed by J. Haney & S.I. Hayes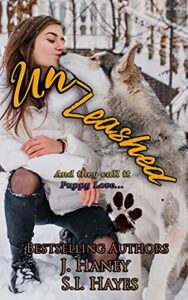 And they call it Puppy Love…
Four years ago tragedy hit and now Bennett Reynor sits in his mansion, alone. He gets everything he could want delivered straight to his door. His business partner Stanley would like to see him move on and live his life but Bennett is content in his solitude often letting his disdainful words drive everyone away.
When Clover Prescott's husky Mia takes off, setting her on a muddy and cold pursuit she finds herself in the yard of a grand estate while her pup is being accosted by an albino Doberman. Little does she know she's about to come face to face with the ornery owner.
Heated words are gonna fly when these two let loose their mouths with hilarious results.
Xander & Asher by S.I. Hayes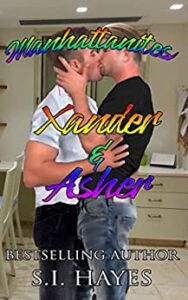 Asher O'Grady runs O'Grady's Garage. Fixing and selling cars to Manhattanites. Living and loving under the cover of his Grinder App, he's a serial dater, until one late spring afternoon call brings him face to face with Xander Gatlin.
Suddenly the man's palms are sweaty and his head is full of naughty connotations. Xander helpless against Asher's tattooed and pierced tonged charm quickly succumbs to his lustful intentions and their hard bodies connect causing the young baker to see stars.
Can Xander break through Asher's walls and open him up to the possibilities that await him in coming out to the family? Will Asher take the brave step toward a monogamous relationship?
Can they find where sex ends and love begins or will secrets rip them apart before they can even start?
*Trigger Warning: Violence
* *Erotic Elements
Stupid Cupid by J. Haney & S.I. Hayes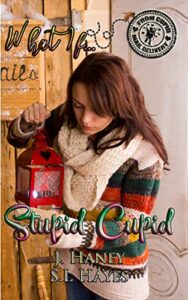 Life comes at you when you least expect it…
Katie Belle Wilson is a single mom. At twenty-six, she's busting her hump to get her master's in Early Childhood Education. Her pet project, Cupid Is Calling was supposed to help her study people and how letter writing could connect them. Little did she know she was to become a participant and perhaps find the one thing she's always craved but never gained… Love.
What if a driven single mom lets a sweet and caring widower into her world?
Rest assured it's nothing short of Bee-u-tiful.
Faking It by J. Haney & S.I. Hayes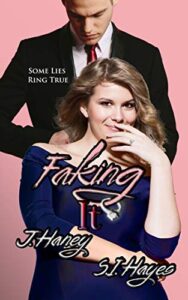 Griffin Garnet is just this side of thirty and at the top of his game as a high paid litigator in a
prestigious Louisville Law Firm.
When word comes down the line that he and his mentor are up for partner he believes he's got it in the bag. Until he hears of a rumor.
Bent on not losing this opportunity he blurts out a wallop to save his reputation.
Stating that the pretty plus size girl in the family photos is his girlfriend.
The problem now is the partners want to meet the girl, which would be great except one little problem.
She hates his guts.
What happens when lies and lines blur?
Can a game of pretend become more or will the pair just be content with faking it?
ebook will be FREE on 21-25
Resolution by J. Haney & S.I. Hayes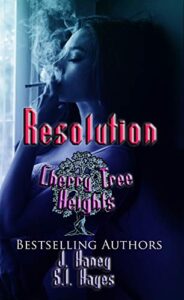 Jarrett Brooks is about to be a granddad. His daughter not wanting to lose her only family left, begs him to give up his nasty cigarette habit. Having failed in the past he looks to alternative options. Namely hypnosis.Winnie McCormick has been smoking for years. When her twelve-year-old boy wants to her dismay start dating the only way to curb his growing libido is to agree to quit. This sends her straight to the Holloway Hypnotherapy clinic.The chance meeting sends both into a hazy lust-filled fantasy. Can Jarett get past Winnie's college friends AKA the gatekeepers? Can Winnie get her children on board and finally get a semblance of a life or will priorities flip them both on their heads?
Island Heir by J. Haney & S.I. Hayes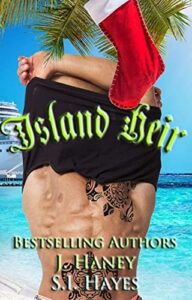 Left at the altar on her wedding day, Autumn Elizabeth Ashley, angry and broken hearted takes off on what should have been her Honeymoon with her Maid of Honor and best friend Nadia Havarti.
Autumn tries to just drown her sorrows, but Nadia won't stand for it. Instead, she helps Autumn to remember what single is supposed to feel like. So, when a strapping mountain of unidentified local man shows interest, Autumn takes a cue from her BFF with the repercussions to match.
Dalian Emeterio grew up between worlds. His family moved from their Pious and beautiful home in Georgetown, Cayman Islands to the United States when he was just a boy. Memories of his birthplace lead him to dream of one day opening a place on the island letting him take care of the parents that worked so hard for him.
One winter night while working at a Rum Point Hotel he meets Beth and the sparks fly leading to an explosive New Year. Waking alone on the sand he thought he'd never see her again.
Ten years have passed, he is now the owner of The Georgetown Heirs, a chain of intimate hotels along the most popular Port of Calls in the Caribbean, Bahamas and the Western Atlantic.
Faced with the woman who left him on the beach, he's about to find out that getting what you wish for always comes with strings.
Sweet Intentions by J. Haney & S.I. Hayes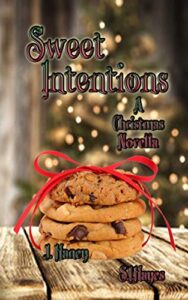 Absence makes the heart grow fonder unless you're Samuel Benson.
Betrayed by his own brother and the love of his life, Sam has stayed away for ten years until the death of the Benson Patriarch lures him home. Taking care of the Christmas Tree Farm is one thing, but can he face his past and reconcile the choices that were made, or will it all blow up in his face?
Peyton Miller was the girl next door. She's been in love with the boy on Church Street since she was eight, but circumstances put her in the arms of his brother. Ten years later, Peyton is widowed with two children and a third on the way. Will she ever feel like her old self again? Will she be able to chisel the ice from Sam's heart to find the path to forgiveness? Can she ever forgive herself?
Tangled Up in Blue by J. Haney & S.I. Hayes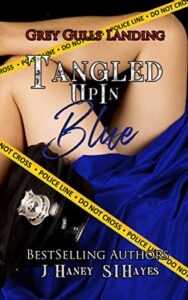 Sutton? ?Bishop? has always dreamed of a career in law enforcement. After years stuck in a loveless marriage she finds herself divorced and a top graduate of the Academy. She is determined to juggle her life as a mom and a new recruit to the Steel Head family even if her partner is an ornery jerk.
A sexy ornery jerk.
Marcus Cameron was once an esteemed member of the K9 unit, until his canine partner was lost in the line of duty. He's hardened his heart and tightened his britches in an effort to move on. Tasked with a babysit, he just wants to do the job and go home so he can drink and fish.
When the pair encounter a key player in an ongoing DEA/FBI investigation, it doesn't matter how unhappy he is or how green she may be-all bets are off and hearts toe the line as they find themselves tangled up in blue.
Under His Skin by J. Haney & S.I. Hayes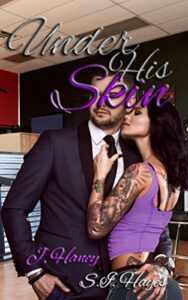 At twenty-six Dorian Gallagher has it all. Money, power, he's used to fast cars and faster women. He gets what he wants when he wants it. Being put in charge of the build for the Gallagher family's newest theme park has dropped him in Tennessee. Bored out of his mind he decides to go get some new ink and finds himself face to face with a beautiful woman who doesn't know his famous last name. Can he charm this dark beauty, or will she just stick him and run?
Charlotte (Charlie) Herrick is a free spirit. She drives a big truck, rides a motorcycle and carries a gun. All while dancing around in the layers of tulle that make up her usual cheek baring tutus. Her life was hers. Until she meets Dorian Gallagher, now she doesn't know which way is up and life has become something more than just the shop, fishin' and moonshine. He says he's just here for the year, so she convinces herself it's just a fling. Can she stay true to her convictions or will this Amusement Park Prince finally get his princess?
*Trigger Warning: Violence
**Erotic Elemets
Landing the Runaway by J. Haney & S.I. Hayes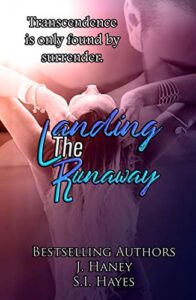 My world was decadent, if not lonely. Raised by an aging Blue Blooded sycophant, I couldn't stomach the idea of a forced marriage.So I ran.Took on the world one, two at a time, with one goal in mind. To come. To feel my blood boil, my heart race and my body transcend to something-anything worth living for before their private dick catches up with me.Jumping my cruise ship to a resort town in Mexico, I thought I was good. Thought I could disappear and resume my chase of debaucheries and delights.Then I met him. The monster of a man that has promised to do all I need. The catch? He wants my trust and complete obedience. Can I give up control in pursuit of my desires? Can I swallow my defiance and surrender to him or will my past arise and leave me as always— wanting?Note: Contains cameos from the main characters in J. Haney & S.I. Hayes' Island Heir. While not required reading they do hope you may want to know Ian and Autumn's story!ViolenceDrug ReferenceAdult LanguageStrong Sexual Situations
Tell Me Tru by J. Haney & S.I. Hayes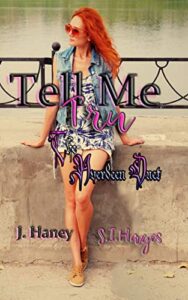 Lies have a way of coming to light. Especially when love is on the line.
Tru Averdeen had everything a person could want. Money, fame, the power to influence others. Her way was paved on her fortune and her face. With porcelain skin, a head of fiery curls, all framing a pair of pastel blue eyes and lips like to pink roses she has been a Media Spectacle since she was born. Then she met Holly…
Holly Turner came up rough. Emotionally damaged all she wanted was a life worth living. Then she sees a face on TV crying over some lost rich daddy. Her wheels turn and soon she is face to face with Tru and the truth…
It's been four years since that night. They don't speak of it, not anymore. Tru has fallen away from the limelight, letting Holly take on her name, her face, friends. All Tru wants is a quiet happy existence away, and all Holly wants is what's owed to her. It's worked for four years…
Worked.
Avery by J. Haney & S.I. Hayes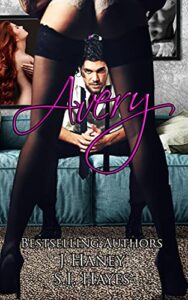 So, the name's Avery Harper but my nearest and dearest usually call me Av. I've been told I come off as a bitch but in reality, I just won't take no BS…
I play hard but I love harder. I like to party with the best! Honestly is there any other way to party?
During my senior of high school something went horribly wrong making me the woman I am today.
Who you ask is that woman? Well let me just tell you. I sleep with who I want, when I want, where I want. If that makes me a whore than stop bragging boys because you ain't any better. They use, and abuse, and I take all I can get from the idiots willing to pay. Rich college boys… Gotta love um, big stupid and willing to pay top dollar to be seen with the likes of me and I'm worth every penny.
But I'll tell you a secret, I'd give it all up for a guy strong enough to see past the bullshit and talented enough to make me come. Haven't met one like that yet, so until then me and my girls will keep running and playing and working hard. Because that's what we do.
*Erotic Elements
Rising Star by J. Haney & S.I. Hayes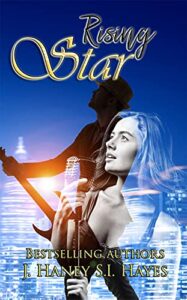 In a competition for fame they must surrender to the music and each other.Cassiopeia Eleanor. A name that just begs to be heard. A successful singer in small-town Mississippi, she finds only disappointment in California. It's a tale as old as they come until she sees the flyer for a new kind of musical talent show. Rising Star could be her ticket to success. Now, she's on her way. She's moving through the ranks, and nothing is gonna slow her down. J.T Chase is a man possessed by his passions. Having left the Seminary, he's spent the last eight years working the bar and club scene, trying to share his music. Rising Star is his chance to show the world that he can succeed.
Vegas Lights by J. Haney & S.I. Hayes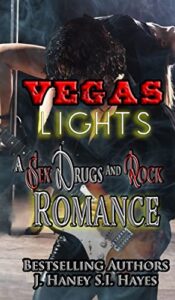 What happens in Vegas, never actually stays in Vegas…
Brent Casey aka Brent Jagger is the lead guitarist of one of the best Southern Rock bands, in the world, Fallen Angels. He's been sober for three years when he wakes up hungover and in a bed, that isn't his. To make matter's worse there's someone in bed with him, and he's got a ring on that he doesn't recognize. He knows quickly he's messed up. Thinking he can just get it annulled he sneaks out of the hotel to be grabbed by his detail and shoved into his car to be taken to the airport they have a gig in Sydney, and will be gone for three months, hoping Lawyers can handle it he's at a loss as he doesn't even know her last name. When he finds her, he finds he's stuck, as she burrows under his skin.
But can this mouthy, Texas girl handle the life of a Rocker? One on the brink of his addictions? Can they move past lust and find love at last?
*Trigger Warning
**Drug Use
$1.99
Sitting Pretty by J. Haney & S.I. Hayes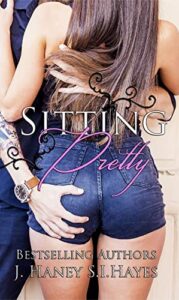 Something this wrong shouldn't feel so right.
Cordelia Sterling is out on her ass. When her cheating fiancé kicks her to the curb, she has no choice but to call her daddy. He says come home, but she refuses, and daddy finds a solution in his best friend from High School, the kind, honest, and struggling Beckham Morrow.
An apartment, a job, hot meals—it's a dream for Cordelia, one she can't pass up. But what happens when the boss is a silver fox that makes her insides tingle?
Will she give in? Become the babysitter cliche and succumb to him, or will she keep it all professional even as just a glance from him makes her want to…
12 Days of Christmas by J. Haney & S.I. Hayes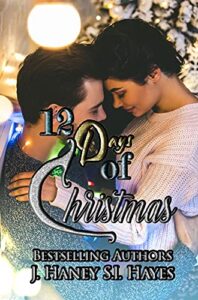 How do you mend a broken spirit?
Holidays are hard, but when your mind tells you that they are impossible then the unimaginable can happen.
This is the case for Bristol Kane.
A few pills, some brandy and it can all go away, or so she thought. Finding herself in the hospital with her husband still at her side, she must contend with her broken spirits. She must smile through, to keep the next wave of tears at bay. She'll soldier on for him.
Now, it's up to her loving husband Lucas to save her from herself. Taking her from Texas to Finland, he hopes that the snow and the change of scenery can reignite her passion for the season.
Can Lucas turn Bristol's smile from false to genuine? Will twelve days filled with love save them from themselves?
Just Us by J. Haney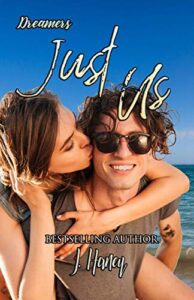 Coming up the son of a very wealthy family, Boyd (Bowie) De' Mendoza is a little strange. Infatuated with finding his person, it's no wonder he's smitten by the girl from across town.
Her pineapple lips and their stolen kisses fuel his desires. Hiding away on Amity Isle he has a week to spend with her before the future calls.
Can a couple of dreamers make a go of life and love? Only time will tell.
Music Heals the Heart by J. Haney & S.I. Hayes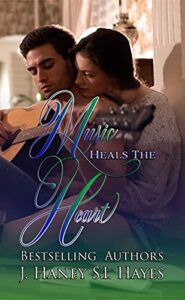 People have a way of finding each other.
Kris King was on the top of the world. High on life and ready to take the Country Music world by storm, when the unimaginable happened.
Eleven years later he is tasked with helping young Nicolette Barrett to restart a career that has fallen flat. She wants to leave Niki B behind and get back to her real Southern Tennessee roots.
Can Kris crawl out of the bottle long enough to see just how promising this woman can be, or will his foul mouth and broken spirit forever be bruised beyond repair? Together can they learn to trust in fate and perhaps let the music heal them both?
Preorder today!
Call Him Baker by J. Haney & S.I. Hayes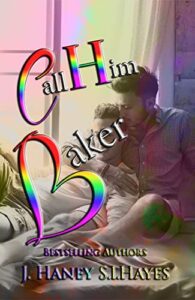 Truth is relative, but actions speak volumes.
? Baker ?
I was named after the place where my parents met, the street where they fell in love, and later where my father died.
Mom refused to accept handouts and I was pretty much the same, thanks to the example she set. But it's winter break. Normally, she'd come get me, but this time…her car is in the shop and I am out of options.
I did what many other college students were forced to do: post a rideshare request on the board in the student union. I just never expected Kellan to reach out and offer.
Is he genuine, or will this end like our last conversation-him bleeding and my hand hurting?
? Kellan ?
Baker changed me without even trying.
He is the guilt I carry in my heart. The one person I measure myself against. Every day is a game of 'What would Baker do?' He had a moral compass that everyone else in my life lacked. He was fiery and passionate. He also packed a mean right hook.
That we ended up attending the same college was no coincidence. That he needed a ride, however, was. I knew his number by heart.
We met and I think I fell for him in the first hour. I'd drive him for free, just to have the chance to tell him what I should've said all those years before. I might have said nothing that day, but I didn't stop my friends. See, I knew his truth, and perhaps now it could set me free.
99¢
A Christmas To Remember by Kristy Mickelsen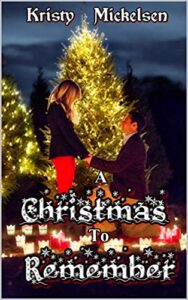 Heather Montgomery- A widow of Six years who has been going through the motions of daily life but not actually living. She spent her days at work and her nights at home watching tv and writing in her journal grieving the loss of her husband.
Samuel Thorton- A Hardworking charming accountant for one of Los Angeles ' most well-known law firms lost his wife to breast cancer eight years before and is ready to finally move on.
When Heathers' daughter sends her away to Aspen Colorado for Christmas she meets Samuel in line at the airport and they become fast friends. They spend most of their days exploring Aspen together and Samuel quickly develops feelings for Heather.
Heather is attracted to Samuel as well but refuses to give in to her feelings out of fear that she would be betraying her deceased husband. Heather and Samuel struggle with their feelings for each other until the week before Christmas when an accident occurs changing their lives making it A Christmas to Remember.
Steamy Contemporary
$1.99
Deception, Victoria Saccenti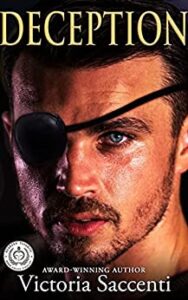 Her submission is his sweet revenge…until the truth detonates his plans.When Joe learns Hunter's name, his inner Dom's lust turns to black rage—he's convinced it's her fault a teammate committed combat suicide. He embarks on a plan to seduce her, but by the time her sweetness ensnares him, the truth threatens what could be the love of a lifetime.
Contemporary Fiction
$2.99
The Peak by Mac Hurts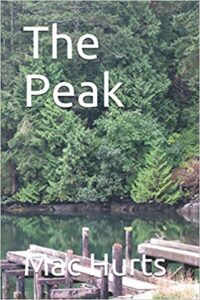 A fictional story that follows the struggles Mac goes through while fighting through depression, suicidal ideation, and the desire to be loved and cared for. Mac has to learn to deal with these issues and desires while working through troubles with substance abuse and a hidden battle with alcoholism.
Literary Fiction
99¢
Discovery of an Eagle by Grace Mattioli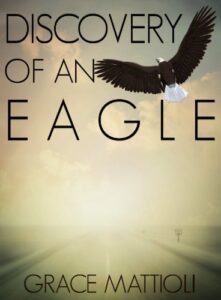 When Cosmo Greco gets laid off from his job in Philadelphia, he takes up his sister on her offer to drive with her to Portland. A near fatal car accident in the beginning of the trip wakes him up to the fragility of life and to the fact that he's been leading a dull, mediocre existence. People he meets along the way further open his eyes, but his pragmatic nature and his fears come into play and he's conflicted about whether to go back to his old way of life or to go forward in his journey of self-discovery. What will he do? Find out while going on an adventure filled with vividly painted landscape and colorful characters. Midwest Book Review calls this "a soaring story" and Kirkus Reviews says it's "a transformative road trip."
Free
Olive Branches Don't Grow On Trees by Grace Mattioli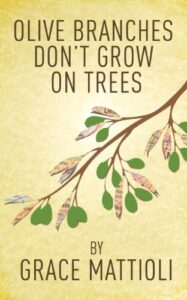 Silvia Greco is broke and living with her father in New Jersey when her mother asks her for help in gathering their family to celebrate her younger brother's high school graduation. Uniting her feuding family who haven't been together in over six years and whose parents are newly separated is a truly great challenge. Can she make peace in her family and save them from devolving into families like those of her parents, with siblings who are estranged from one another? Find out while immersing in a world of unforgettable characters, humor, and delicious food! Gain valuable insights about the art of peacemaking! "Best of List" in "Suspense Magazine!" Indie Reader's 5-Star review says, "The author…manages to make us care about this family…All of the Grecos…are entertaining and their quirks are endearing."
Literary Women's Fiction
$2.99
Racetrack Rogues: One Woman's Story of Family, Love, and Loss in the Horse Racing World
by Dawn LeFevre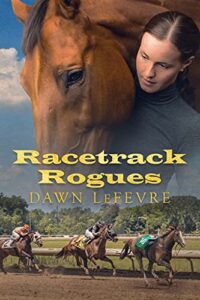 What if you never had the chance to say I'm sorry?
From the author of Backstretch Girls, winner of the 2021 Equus Film & Arts Festival for Best Horse Racing fiction comes a new story of family, love and loss.
Nineteen-year-old Dahlia Leggett is a brilliant student but a subpar daughter. Her mother, pioneer female jockey Marilyn Matteo, was once the star of the local sports pages but their relationship is far from stellar. After a nasty confrontation with her headstrong mother, Dahlia vows never to set foot on the racetrack again.
Then Marilyn dies and Dahlia is left with only a guilty conscience, boxes of her mother's memorabilia, and a cottage on her grandparents' horse farm. When her grandparents take on a dangerous horse that responds only to her, Dahlia is pulled back into the life she tried so hard to escape. Before she knows it, Dahlia has a rag-tag stable of neurotic Thoroughbreds, a bulimic jockey, a party-girl BFF, and an unexpected romance with Steve, the sexy son of her nemesis – legendary trainer Bill Bassett. When Dahlia stumbles upon a forgotten videotape among Marilyn's possessions, it threatens her precarious relationship with Steve but reveals a way that she can make amends to her mother.
Can Dahlia achieve her mother's dream without losing the man she loves?
$1.99
Things Unsaid by Diana Y. Paul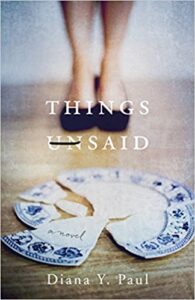 "When You Took My Heart With You" by Kandice DeLuccy
PAST AWARDS:
Bookclub Favorite
Winner of New Adult Fiction?Beverly Hills Book Awards
Winner of the SILVER Medal for Best Fiction in Drama from Readers' Favorite
Finalist USA Best Books Awards in Literary Fiction and in New Fiction
Inspired by a true story about mothers, daughters, and impossible choices?Jules Foster, a child psychologist, upon hearing news of her estranged, narcissistic mother's terminal diagnosis, chooses to care for her mother over her own daughter, only to find out she has been betrayed all along. Things Unsaid asks us to consider what children owe their aging parents and siblings.
When You Took My Heart With You by Kandice DeLuccy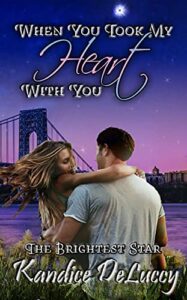 Book 1 of The Brightest Star Series
There is nothing like a first. First smile, laughs, and the most coveted first kiss.
Kayla Rossi is shy, inexperienced, and prefers to be invisible. Alyson D'Agostino, is her best friend, confidant, and keeper of her biggest secret.
Kayla has never kissed a boy! Not that she hasn't wanted to. No, she wants to, but feels she may mess it up.
Jake Gaetano is gorgeous, charming and very popular. Not only does he have a cell phone, but he drives a mustang and wants Kayla in the bucket seat beside him.
Will Kayla let Jake in? Can she reveal her secret and lose her insecurities, or will her fears hold her from that magical and unforgettable first?
Strap yourself in for the twists and turns of this emotional roller coaster ride!
99¢
The Bird that Sang in Color by Grace Mattioli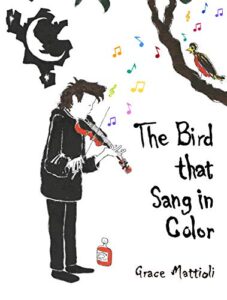 A moving family saga about the secret to living free!
Donna Greco wants nothing more than happiness for her bohemian brother, Vincent, whom she perceives as sad and lost as he remains single, childless, living in boarding homes or cramped apartments, and working low-paying jobs she thinks are beneath him. She subscribes to a conventional view of life and despite her tireless efforts of encouraging him to do the same, he chooses to go his own way. She harbors guilt for her supposed failure to ensure his happiness until she finds a book of sketches he made of his life, which allows her to see his internal joy.
She also discovers something else in her brother's drawings that changes her entire outlook on life and fuels her desire to live authentically. But she is pulled back into her secure existence for fear of the unknown. What does she discover and will she be able to break free of her self-made prison and live life on her own terms? Read this generational saga spanning decades and filled with endearing characters, great humor, and nostalgia to find out.
Reviewers have called this story "profound, thought-provoking, funny, inspiring, and beautiful." Notable New York Times author Lidia Yuknavitch has called this book, "hugely moving, beautifully rendered, and brilliant."
Historical Fiction
$2.99
SADNESS IN THE HOUSE OF LOVE – FAROUK ASVAT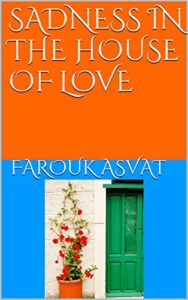 The blossoming love between Siddique and Wasiela in the midst of an uprising against the cruel regime is set against the bleakness and the beauty of the peninsula – the myriad characters reacting with humour and courage to the turmoil surrounding them.
Against the backdrop of the ever-present mountain and the persistent south-easter, the novel is a portrait of a cosmopolitan city isolated from the world, of a happy-go-lucky community caught up in the throes of a revolt against oppression, of an extended family responding to the new challenges facing them, of the slowly developing love between the two protagonists getting entangled in the maelstrom – with devastating consequences.
IN THE HOUSE OF LOVE – FAROUK ASVAT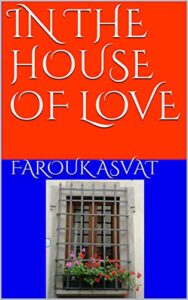 The English version of the novel, Sadness In The House Of Love,
was previously published separately as a book.
Although In The House Of Love novel is also written in English,
it is the original version, with words, phrases and dialogue
in cape town slang / skollie lingo / kaapse praatjies /
kombuis afrikaans / & local patois.
The blossoming love between Siddique and Wasiela in the midst of an uprising against the cruel regime is set against the bleakness and the beauty of the peninsula – the myriad characters reacting with humour and courage to the turmoil surrounding them.
Against the backdrop of the ever-present mountain and the persistent south-easter, the novel is a portrait of a cosmopolitan city isolated from the world, of a happy-go-lucky community caught up in the throes of a revolt against oppression, of an extended family responding to the new challenges facing them, of the slowly developing love between the two protagonists getting entangled in the maelstrom – with devastating consequences.
99¢
Under a Bloody Flag by Kathleen Walls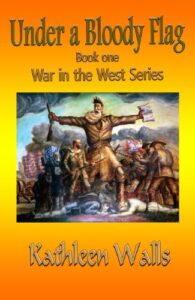 Under a Bloody Flag
In Kansas and Missouri, the War Between the States started long before Fort Sumter. Daniel Fitzgerald, a Southerner who tries to settle Kansas and leave behind his tormented Louisiana roots, soon finds that in Kansas Territory you have to take sides or die. Taking sides doesn't lessen the chances of a violent death, it just determines who is going to try and kill you.
For Massachusetts-born Rebecca Styles, who comes to Kansas to insure freedom for slaves, the choice is easy. Or is it? When she meets Daniel, she is forced to take a new look at all the ideas she took for granted, like all Southerners are evil and all abolitionists are good.
Daniel's half-brother and former slave, André, knows his first loyalty belongs to his friends and family, not a lofty ideal, but he can't sit by and do nothing when injustice stares him in the face.
Throw into the mix all the larger-than-life characters who played a part in the sectional violence which led the nation into its bloodiest war and you have a novel with all the drama of the era. You'll meet James Lane, John Brown, JEB Stuart, Robert E. Lee, Joseph Shelby, Harriet Tubman, Abraham Lincoln, and the other men and women who have shaped this nation into what it is today.
You will never look at any of them as just characters in a history book again.
This is a historical novel unlike any you have ever read before. It is a blend of history, action and romance. Facts read like fiction, and fiction could have been fact. It is a story of a time that changed a nation and a handful of people who lived and died in our nation's most colorful era.
Nonfiction
$2.99
Peace, Love & Maki Rolls by JD Estrada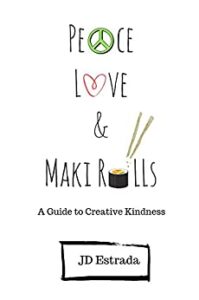 For over a decade, Puerto Rican indie author JD Estrada has signed off his blogposts, videos, forewords, and letters with a curious little phrase: Peace, love, and maki rolls.
Equal parts catch phrase and life mantra, it is in essence what Estrada wishes upon all the people in the world in regards to getting along, sharing the best we have to offer, and good food.
This Guide to Creative Kindness shares a lot of examples of how we can be kinder more often in our daily lives, because with all that goes on in the world, a little kindness can go a long way to changing someone's life.
WEAPONS OF WORDS FAROUK ASVAT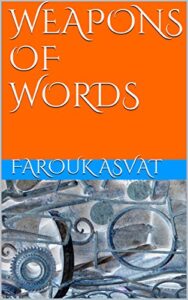 Authentic literature is the bloodbeat of contemporary society.
It transmits the pains and laughter of the writer's environment.
It alerts against violations of the Truth.
Literature does not develop in a void.
It is a transformation of the reality into an artform,
utilizing the dialects of the time;
getting its shape, direction and field of concern
from the social, political and economic forces
that interact in a particular society.
The creative writer is the conscience of the people,
the interpreter of his society. …
___________________________________________________________________________
contents:
WEAPONS OF WORDS
Weapons of Words
Creativity and Development:
a critical look at black south african literature
in the context of third world and world fiction
The Sad Splendour of Latin American Literature
Modern Arab Literature a clash of cultures
Jorge Luis Borges: the forking paths of the labyrinths
The Power of Words (an interview)
Black South African Writing: a critical appraisal
I Say
For Writing Out Loud By J.D. Estrada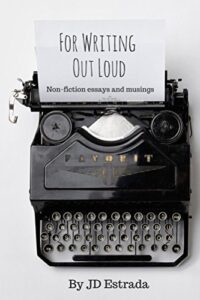 For Writing Out is a collection of the most poignant blog posts from the blog that goes by the same name. It spans a wide variety of topics because life is far from homogenous and rather than avoid unpopular topics, thoughts are shared in hopes of inspiring and promoting dialogue.
$1.99
Quick and Dirty E-newsletter Guide by Heidi Angell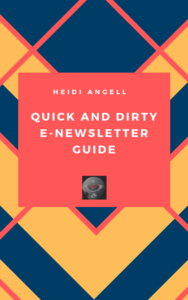 Heidi Angell of Angell's 4 Authors, Marketing Maven, course creator, and author of 9 fiction books, has created a simple guide to help you create an e-newsletter. From understanding why, to knowing how, helping with content strategy, and finally with tips on how to grow your list, this handy guide gives you what you need to confidently move forward in creating an e-newsletter strategy and campaign today.
Quick and Dirty Marketing Plan for Authors by Heidi Angell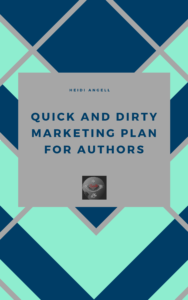 Heidi Angell of Angell's 4 Authors, Marketing Maven, course creator, and author of 9 fiction books, has created a simple guide to help you create a multi-pronged marketing plan that you can implement with as little as 30 minutes a day building towards a robust sales front. Get this easy guide to begin promoting your book today.
Nonfiction/ Travel
$2.99
Georgia's Ghostly Getaways by Kathleen Walls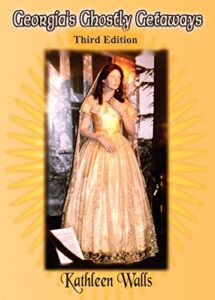 Come with me on a visit to Georgia's ghostly getaways. They offer spirited excitement and haunting beauty. From the seaport of Savannah to the Appalachian Mountains, the Peach State has its share of spooky spots. The spirits come in both sexes and all races. You can even find animal ghosts. Join me as we look behind all the creaky doors and eerie mansions at Georgia's most spectral sites.
It's probably just coincidence that these spooks choose to abide in some of the most interesting places in all of Georgia. It would be an awful shame to visit these haunted sites and miss out on some other fascinating places just around the block. So, in order to get the most enjoyment out of each place with a haunted site, this book will also recommend other places of interest in the area.
Since, unlike the spirits we seek, travelers have bodily needs; this book will also give helpful hints about food and lodging. Whether your choice is a rustic campground or a historic bed and breakfast, you will find suggestions to please every weary traveler. Likewise, fine food gourmets and fans of home style cooking will also find something to please each taste.
Hosts With Ghosts by Kathleen Walls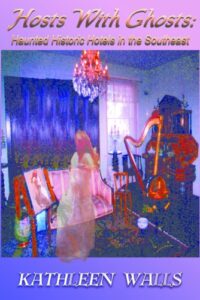 The South has long been famous for its Southern Hospitality. Hotels through-out Dixie vie with one another to make each visitor feel like a cherished family member instead of a paying customer. You want to see more than your hotel. You want to immerse yourself in the flood of history that has engulfed the spot you visit. This book will guide you to many of the lesser known places with interesting stories and restaurants with the berst food and atmosphere. Perhaps you seek a Colonial ambience in Virginia or a touch of Civil War drama in Georgia or Alabama. Or you may want to relive the brash frontier past of Texas, Kentucky or Tennessee. Do you wish to experience the Creole flavor of Louisiana or Mississippi's rural heritage. In Florida, much of its history has been influenced by its tropical and subtropical climate. Some states in this book, like North and South Carolina have a culture so diverse you can expect to find a different experience depending on which part you visit. These hotels all do have one thing in common. These are the Hosts With Ghosts!
Wild About Florida: South Florida by Kathleen Walls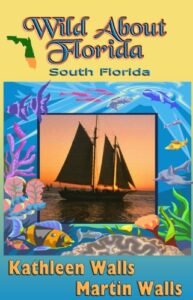 Geography has dealt Florida a lavish hand when it comes to natural gifts. The Sunshine State is filled with unusual flora and fauna. South Florida is home to the endangered Florida panthers and the only North America crocodiles. The Everglades swarm with wildlife from birds such as wood storks, ibises, flamingos, roseate spoonbills and dozens of others to mammals such as black bears, bobcats, fox squirrels and raccoons. When it comes to reptiles, you will find more alligators than you ever dreamed of as well as gopher tortoises, caimans, green anoles, five lined skinks and hundreds of other snakes, turtles and lizards. Take a boat ride into the surrounding waters of the Atlantic or Gulf of Mexico, you will find dolphins dancing in your wake. Drop on down to Big Pine Key, which is the only place you can encounter the tiny Key deer in the wild. You will probably spot a few sun-loving iguanas as you island hop through the Keys. South Florida's plant life is also abundant and rich. From the native mangroves, which are at the root of the food chain to the colorful exotic Brazilian pepper, which threatens native plant life but seems impossible to eradicate to the delicate wild orchids, which thrive on air alone, your senses will be overwhelmed by the color and variety. Then there are also all the refuges, preserves, parks and zoos that make South Florida a nature lover's paradise. Wild About Florida- South Florida is a guide no outdoorsman- or woman- should be without. It lists those hard to find places and provides the inside scoop on those magnificent spots you might never find on your own. It portrays Florida's wonders with original full color photographs.
Wild About Florida: North Florida by Kathleen Walls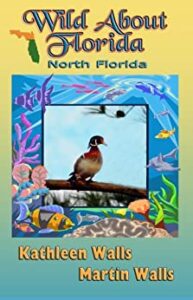 Come explore caves, hills, whitewater falls and lots of other fun things you didn't expect to find in Florida. North Florida still lets you enjoy the sun and sand of Gulf and ocean beaches, you expect in the Sunshine State but there is so much more. The northern counties are totally different from their southern and central counterparts.
Wild About Florida: North Florida is the ultimate guide to eco-travel in Florida. Hike an aboveground cave at Florida Caverns State Park. Think you need to travel to the mountains for whitewater fun? You can find that right here in Florida at Big Shoals State Park offering the largest whitewater rapids in Florida. Looking for rare and exotic wildlife? How about the Sherman fox squirrels at Gold Head Branch State Park or the white squirrels at Ochlockonee River State Park? Into reptiles? You can view white alligators at Saint Augustine Alligator Farm. And that just scratches the surface. This book will tell you when and where to find all the outdoor fun you can imagine in north Florida. Like its south Florida counterpart, it is a guide no outdoors person should be without. We also have some great color photos inside to help visualize the wild wonders of north Florida.
Wild About Florida: Central Florida by Kathleen Walls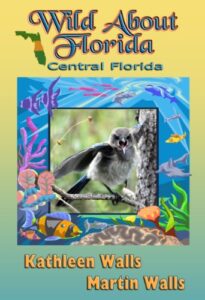 Central Florida has the Atlantic Ocean and Gulf beaches much like other parts of Florida, but in many other ways it is distinct and unique. The Florida scrub jay, a bird many Floridians believe should be our state bird, is found nowhere in the world except central Florida. Central Florida is bisected by one of the most unique rivers in the state and perhaps even the world. Then there are the whooping cranes. There are only three whooping crane colonies in the United States. Central Florida's Polk, Osceola and Lake counties are the home of the only non-migratory flock of whooping cranes. Citrus County is host to the ultralight-led migratory flock that winters in Chassohowitzka National Wildlife Refuge near Crystal River.And then there is… but why not just read the rest of the book, complete with color photos, to discover all the things that are uniquely central Florida.